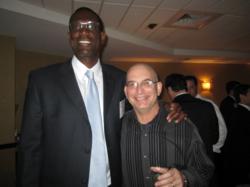 There are 300 manufacturers employing 12,000 employees
Newark, NJ (Vocus/PRWEB) April 13, 2011
ZaGO Manufacturing Company, Inc. announces that it has joined other prominent manufacturers as well as local and state officials in kicking off the "Made in Newark" campaign. The initiative began with a VIP dinner and Nets vs. Cavaliers basketball game where more than 50 Newark industrialists including ZaGO's President Harvey Rottenstrich were honored. The event was headlined by keynote speaker Albert King a former NJ Net basketball player and Newark entrepreneur.
Also speaking at the event was Newark Deputy Mayor Stephen Pryor launching the Industrial Newark Visibility Campaign.During half-time, ZaGO's products were featured in the Made in Newark Showcase.
The initiative was also discussed by Mayor Corey Booker in his State of the City address when he noted that "[t]here are 300 manufacturers employing 12,000 employees" in Newark and stressing the MADE IN NEWARK campaign several times during the his address for which he received an ovation from the audience. The speech was followed up by a breakfast for Newark Manufacturers at the New Jersey Performing Arts Center where Mayor Booker announced the participation of the "Made in Newark" campaign in the March Madness NCAA East Regionals held at the Prudential Center from March 24-27.
ZaGO Manufacturing Company has been has been producing sealing products for nearly twenty years in Newark, New Jersey. Operating out of a state-of-the-art facility in south Newark in close proximity to Newark Airport, the Port of Newark and all of New Jersey's major transportation and mass transit routes, ZaGO makes daily shipments throughout the United States, Central and South America, Mexico, Canada, Europe and Asia.
###