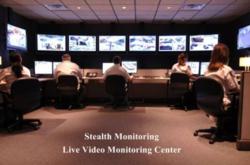 "Stealth Monitoring offers the only live, full-time video surveillance that we know of"
- Marshall Mills, president and chief operating officer of Cencor Realty Services and The Weitzman Group
Dallas, TX (Vocus/PRWEB) April 19, 2011
Stealth Monitoring has partnered with Cencor Realty Services to add an extra layer of security and safety to its portfolio of shopping centers in the Dallas-Fort Worth area. "Stealth Monitoring offers the only live, full-time video surveillance that we know of," said Marshall Mills, President and Chief Operating Officer of Cencor Realty Services and The Weitzman Group. "Other monitoring services react only after there is an alarm, which can slow response time."
A disguised construction worker, looking for a quick buck in a blatantly illegal way, set the ladder against the wall of the shopping center, ready to reach the roof and strip the AC units of their valuable copper.
He never got a chance. Despite the fact that the attempted theft took place in the middle of the night, a 24-hour live video surveillance service from Stealth Monitoring ensured that man was caught before he did any damage. Please see more actual video's from Stealth's website.
Cencor, based in Dallas, is one of the Top 25 retail-focused property management firms in the United States, based on a ranking by "Retail Traffic" Magazine.
Because of the live surveillance, Stealth Monitoring's Chief Executive Officer Norm Charney notes that it rarely calls in false alarms. "We are quick to dispatch police when we see unusual activity on the monitors. Police officers therefore respond faster, because the burglary is in progress, not after the fact".
While Stealth Monitoring's services are provided for banks, auto dealers, manufacturers, distributors, office buildings, apartment buildings, industrial warehouses and construction sites to mention a few, its work with Cencor represents its largest foray into shopping center monitoring.
Stealth Monitoring provides services that "deter and reduce" crime at shopping centers and other businesses. Mills noted that the company originally was hired to help reduce a rash of expensive – and frequent – copper thefts from AC units at Cencor-managed centers. "Then we took it to a whole other level to provide enhanced security at our centers, and the tenants love it and the shoppers feel secure."
Currently, Cencor is rolling out the Stealth Monitoring services to 16 Dallas-Fort Worth area centers, with plans to increase that number in the near future. Cencor also is looking into contracting with Stealth Monitoring for centers in its other Texas markets, including Austin, Houston and San Antonio.
Charney said that Stealth Monitoring grew because he realized no one else was watching surveillance cameras effectively. With real-time proactive monitoring that sees the activity long before an alarm goes off, crimes are often stopped before they get started and resources are not spent chasing false alarms.
Stealth Monitoring uses streamed video, motion detection, video analytics and live trained operators to monitor the continuous activity and constant motion at shopping centers. Norm Charney stated, "almost all of our clients eliminated the use of guards and saved money in the process. Our trained operators are also looking for store break-ins, attempts to climb on the roof, fights, fires, robberies, accidents, drug deals, vandalism, dumpster theft, burglary of motor vehicles, graffiti, unusual behavior and loitering".
Stealth Monitoring, based in Dallas, currently monitors thousands of cameras for all types of commercial properties across Texas and around the country. "We are very excited to roll out this opportunity with such a well established retail real estate partner as Cencor", said Norm Charney.
###