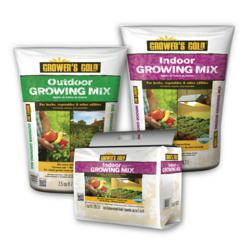 Bellevue, WA (PRWEB) April 13, 2011
Many consumers wonder about the pedigree of the herbs and vegetables they buy from retailers, so they're going local. These "locavores" are buying from farmers' markets or other local sources —and many are even growing their own food (after all, there's simply nothing more local than your own backyard or windowsill). Families also prioritize local food to support global sustainability, and some enjoy like-minded friends while volunteering at community gardens and Community Supported Agriculture (CSA) farms. During this past decade, neighborhoods scattered throughout the country have turned countless empty lots into CSA plots. Some urban farmers are so prolific, they're also sharing or even selling their bounty to friends up and down the block or at the local Saturday market.
Whether motivated by health, sustainability, friendship, political correctness, financial gain or plain old fun, the Urban Horticulture Movement is gaining new enthusiasts daily. In fact, the number of Americans participating in edible food gardening climbed nearly 20% during the year with the most recent data* available, from 36 million households in 2008 to 43 million in 2009.
To help urban farmers succeed, Sun Gro Horticulture, North America's largest supplier to professional and greenhouse growers, launched a line of products specifically for consumable crops. Grower's Gold Growing Mixes are formulated to professional standards for superior performance. The products help everyone succeed, from novices to dedicated hobbyists, because the formulas eliminate guesswork about the best mix of ingredients. About a third of amateur food gardeners are under 45 years old, including 20% who food gardened for the first time* during 2009, so Grower's Gold helps the Urban Horticulture Movement gain momentum by enabling success and excitement on the very first try.
To honor the Urban Horticulture Movement, Grower's Gold is giving away tomato and basil seeds to consumers via their website at http://www.growersgold.net/FreeSeeds during the months of April and May, 2011. These seed packets are available to consumers from Colorado, Oregon, Washington and Alaska. The offer is good while supplies last and are limited to one per packet per household.
Throughout the 20th century urban sprawl overtook adjacent farms across America. In this century, thanks to the accelerating Urban Horticulture Movement, farms are finding their way back to where they proliferated long, long ago, on the very same square footage they formerly dominated, but in all kinds of shapes, sizes, nooks and crannies yesteryear's farmers could hardly have imagined.
Availability, Pricing and Specific Advantages of Grower's Gold
Grower's Gold Mixes are available at many ACE garden centers and Home Depot stores throughout the West. Both mixes are available in a variety of sizes from 1 cubic foot compressed to 2.5 cubic feet, and prices start at about $10. More information is available at http://www.GrowersGold.net or on the Grower's Gold fan site on Facebook.
All Grower's Gold products offer several advantages:
∙ Bio-Smart: Naturally bio-active with only relevant and efficacious mycorrhizae to assist with nutrient uptake (quality endo strains: no filler or inferior strains found in some products).
∙ Moisture Smart: High quality Canadian Sphagnum peat moss and coconut coir hold and release moisture just when plants need it; great drainage, never soggy.
∙ pH Smart: In the proper 5.5-6.5 range to support nutrient availability.
∙ Budget Smart: Growing your own saves urban farmers money for spending on other priorities.
The Indoor Mix is designed for indoor growing and the particular needs of plants grown in a windowsill or under lights. The Outdoor Growing Mix is a perfect choice for raised planting beds and backyard farms. Both mixes ensure a happy harvest for novices and more ambitious backyard farmers, balcony farmers and kitchen farmers.
Some Other Aspects of the Urban Growth Movement
Stroll through an older residential neighborhood in Seattle and you may see parking strips planted with lettuce, or a section of strip mall parking area commandeered for a "P Patch" community garden. The Los Angeles Community Garden council boasts 70 gardens around the county, with more on the way.
The Bay Area and Portland are also hot beds of the Urban Horticultural Movement. Look closely at suburban front yards that once were covered with lawn, and take a look at urban apartment balconies —in both places you'll see tomatoes, cucumbers, peppers, squash and corn. It doesn't take a large plot or special skill to get started.
Indoors, families are creating vibrant gardens that are a high tech twist on our grandparent's Victory Gardens—those seasonal home gardens planted to ease pressure on the food supply during World War II. Grow lights are big business, enabling year-round harvest of herbs and vegetables. Fresh salad fixings can always be close at hand.
About Sun Gro Horticulture
Grower's Gold is one of several brands manufactured by Sun Gro Horticulture®, the largest distributor of peat moss and peat and bark-based growing media to professional plant growers in the US and Canada and a leader in high quality consumer potting soils, garden amendments and fertilizers. With over 80 years of experience, Sun Gro develops and produces horticulture products under the Black Gold®, Sunshine® and Grower's Gold® brands available to consumers in gardening and home centers around the US and Canada.

Source: National Gardening Association
###