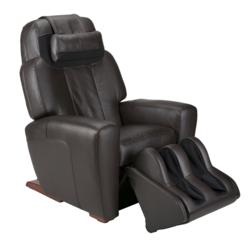 Long Beach, CA (Vocus/PRWEB) April 12, 2011
Human Touch®, the U.S. market leader of innovative massage chairs, Perfect Chair® recliners, and other wellness solutions, has been honored with three 2011 ADEX Awards for design excellence in the massage chair category. Conducted each year by the Design Journal, the annual Awards for Design Excellence (ADEX) competition recognizes superior product design of furnishings marketed and sold throughout the international architecture and design industry. This is the third consecutive year that Human Touch® products have been recognized by the ADEX Awards committee.
This year, Human Touch's new AcuTouch® 9500 massage chair received the Platinum award for its state-of-the-art design and revolutionary features. The chair utilizes an innovative interface – HT-Connect™, a free app for any iPad®, iPhone®, or iPod touch®, providing users with a completely personalized massage and wellness experience. Earlier this year, the AcuTouch® 9500 with HT-Connect™ was also selected by the Consumer Electronics Association (CEA) as a 2011 CES Innovations Design and Engineering Awards honoree in the Major Home Appliances category for its excellence in design and engineering. The AcuTouch™ 9500 retails for $6,299 MSRP and the HT-Connect™ app is available for free at http://www.HT-Connect.com or the Apple App Store.
"The ADEX Awards are given annually to companies that exhibit an unwavering commitment to design and innovation," said John Platter, Director of Awards for Design Excellence. "Human Touch® continuously impresses our awards committee with its product innovation and design excellence. This year, we were extremely excited about Human Touch's award-winning products, and in particular, by the company's ability to morph today's latest technologies, such as the popular i-Devices, with its new AcuTouch® 9500 massage chair, to offer consumers the highest level of comfort, wellness and convenience."
In addition to receiving a Platinum Award for its AcuTouch® 9500, Human Touch® received a Gold award for its HT-7120 ThermoStretch™ Massage Chair and Silver award for its new Perfect Chair® Serenity™.
The ThermoStretch™ HT-7120 is one of Human Touch's top-of-the-line Signature Series massage chairs, offering a beautiful seating design and advanced Human Touch Technology®, to provide fast relief from fatigued and sore muscles. This massage chair also offers such features as dual-lumbar back heat, a built-in foot and calf massager, full body stretching, and Massage Comfort Control to customize the massage intensity. MSRP: $3,399
Introduced in January, the PC-086 Perfect Chair® Serenity™ recliner, which is the newest of the Perfect Chair® line, is designed with built-in jade stones and gentle-wave therapy to create a healing and warming massage by radiating far-infrared heat up to three inches into the muscle tissue for full-body relief. Its Zero Gravity design also reclines the body into a virtually weightless position, removing pressure from the spine and neck. MSRP: $3,799.
"The ADEX Awards for Design Excellence are among the most prominent awards granted by the home and furnishings architecture and design community," said Andrew Corkill, Director of Marketing for Human Touch, LLC. "We are highly honored to have received this recognition for the third consecutive year as a demonstration of our company's ongoing commitment to superior product innovation and providing consumers with ultimate enjoyment and wellness."
About Human Touch®
In pushing the boundaries of its traditional massage chairs and wellness products through advanced proprietary technology and innovation, Human Touch® is focused on infusing health and wellness into everyday lives through high-quality, design-oriented and award-winning massage chairs, Zero-Gravity Perfect Chair® Recliners and other wellness products and solutions. Human Touch® has been making people feel better™ for more than 30 years by developing state-of-the-art massage and wellness products, as well as by providing valuable consumer education about the substantial health and wellness benefits of regular massage therapy, relaxation and proper posture. Stress relief, increased range of motion, pain relief, improved circulation and increased immunity are just some of the valuable health benefits associated with regular massage therapy. Human Touch® products are available at back care specialty stores, fine furniture stores across the country, through international retailers and distributors in more than 40 countries, as well as online at humantouch.com.
###