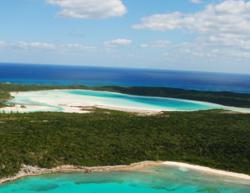 "The island recently has seen a tremendous spike in the number of ball players buying there," notes Ramon Ramirez
Miami, FL (Vocus/PRWEB) April 12, 2011
NFL Hall of Famer Warren Moon recently acquired prime oceanview property in Paradise Is Mine of Rum Cay, Bahamas. Numerous NFL players have recently flocked to Rum Cay to acquire properties from International Real Estate Marketmaker Paradise Is Mine, LLC. Hall of Famers including Joe Montana, Warren Moon and eventual NFL Hall of Famer Ray Lewis are among the star studded celebrity set to settle on Rum Cay.
Apparently the allure of untouched natural beauty, world class fishing, peace and quiet are sufficient bait for NFL players to target The Bahamas and Rum Cay during the recent players strike. More and more NFL and NBA players are joining the Celebrity set on Rum Cay which is considered the most beautiful island in The Bahamas. "The island recently has seen a tremendous spike in the number of ball players buying there," notes Ramon Ramirez, marketing consultant for luxury destination locales.
The thing about that area of the southern Bahamas and Rum Cay in particular is that you have varied topography. Rum Cay has dramatic white limestone cliffs that provide dramatic backdrop for the beautiful turquoise Caribbean Sea. This is one place that combines beautiful white sandy beaches, rolling hills, history and is in the perfect location within one hour of the United States. It is like the Hawaii of the Caribbean but much closer. Paradise Is Mine aggressively targets athletes and entertainers as clients so it is no wonder why they have 15 or 20 celebrities within an area the size of Greenwich Village. It is nothing short of amazing. Last month Forbes Online featured Joe Montana's acquisition of Paradise Is Mine. Sooner or later who knows maybe NBA teams and NFL teams will hold training camps there." Ramirez furthers.
Paradise Is Mine, a company which specializes in creating and promoting real estate marketplaces throughout the world named a street after Ray Lewis in 2009. After ESPN published a story in 2010 about the city of Baltimore also naming a street after Lewis the NFL players evidently took notice. Rum Cay is a tremendous allure for the wives, kids and the players.
During the time when Roger Goodell and Demaurice Smith argue over who is going to split up the nearly $9 billion dollars in NFL revenue and the Chinese Government has recently pumped in nearly $5 billion dollars into the Bahamas economy, the NFL players are finding serenity away from large stadiums and screaming fans in a remote tropical paradise.
For images:
http://www.paradiseismine.com/pr-content/20110411-Keith-Moon/
Contact info:
MediaLinc
Nick Betancourt
nbetancourt(at)medialinconline(dot)com
786-287-1725
Paradise Is Mine
Ashwin Philips
202-277-4841
http://www.ParadiseIsMine.com
###