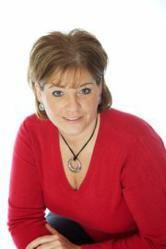 I was impressed that the lollipops reduce sugar cravings. It exceeded even my expectations because having Celiac disease I always battled with weight loss"
(Vocus/PRWEB) April 12, 2011
Natural and nutritious lollipops known as SlenderPOPs, manufactured by Sisel International, became a part of dieting efforts for Nancy Olson, who is also known as "The Celiac Warrior." The Celiac Warrior, Nancy Olson, shares her cutting edge strategy with men and women who want to get in shape for the summer vacation season.
According to Nancy Olson, "The Flushing of stubborn fat cells does not have to be complicated anymore. After my research, I can say SlenderPOPs offer a natural, unique alternative to all the other weight loss solutions out there."
In her interview with publicist Tatyana Gann, Olson relates, "Weight loss lollipops are natural, sugar free and help me to maintain my gluten free diet. I was very impressed that the lollipops reduce sugar cravings. It exceeded even my expectations because I have always battled with weight loss having the Celiac disease."
In an article she authored on "5 Ways to Fitting in a Little Red Dress", Olson shares some of her other secrets to losing weight in addition to the delicious lollipops. She suggests that drinking plenty of water, cutting down on carbohydrates, eating more protein, taking liquid nutritional supplements and eating more often will also help a person shed unwanted pounds.
Olson emphasizes that the natural weight loss lollipops contain a breakthrough in weight loss science. In addition, they also contain fiber that supports the body's ability to flush fat from the cells and reduces the absorption of fats eaten every day.
According to recent studies, the ingredients in SlenderPOPs can help a dieter achieve:

Help reduce hunger and control sugar cravings
Reduce the amount of fat a person eats every day
SlenderPOPs also encourage the release of fat from body cells.
Nancy Olson believes that SlenderPOPs weight loss lollipops combined with other weight loss products can help anyone to achieve results. Not only will the consumer look better, but they will feel incredible too when following Olson's advice on fitting into a little red dress.
To learn more about Nancy Olson's brand new breakthrough weight loss solution, visit http://www.skinnyreddress.com . To read about Olson's Celiac journey and get complete access to her free tips and advice to Living a Gluten Free Healthy Lifestyle visit her blog at http://www.thrivingwithceliac.com
For Media: Nancy Olson is available for speaking, events and expert quotes.
About Nancy Olson: Nancy is a Celiac Warrior that lives in Minnesota, writing to inspire others with celiac disease or health issues not to take over your life. Nancy has had many health challenges in the past; because of her celiac diagnosis, she has been eating a gluten free lifestyle for over 5 years now. Nancy is the leader of two celiac support groups in central Minnesota.
Nancy Olson can be reached at 320-766-5368 for further questions regarding celiac disease and her weight loss solutions.
Publicist Tatyana Gann, 615.354.7625
###