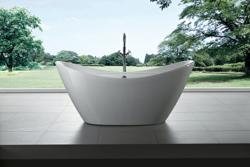 We have delivered a balance between great pricing, trade discounts, and a straight-forward prioritised service.
(PRWEB UK) 14 April 2011
Bathrooms.com, a leading online retailer for bathroom furniture and accessories, announced today the launch of their new proposition aimed at trade customers, offering plumbers, builders, bathroom fitters and interior designers instant discounts, loyalty rewards and dedicated customer service.
Bathrooms.com Professional answers the demand from trade customers who are increasingly online savvy, and want both the convenience of online shopping and the ongoing personal relationship and discounts they get at their local builders merchant.
Commenting on the launch, Paul Hanson, Sales and Marketing Director at Bathrooms.com, said: "Tradespeople are a major influence in the purchase process for new bathroom products, so offering them a personal service with good benefits is absolutely the right thing to do. Tradespeople have extremely high expectations and standards, and we think we've found the right balance between great pricing, trade discounts, and a straight-forward prioritised service."
Research prior to the launch has highlighted that despite shopping online more than they used to, there was still very low awareness of online retailers, and tradespeople were therefore missing the opportunity to be more competitive in their own pricing whilst maintain levels of product quality. Overcoming this awareness and perception barrier has been the main driver behind the launch of Bathrooms.com Professional which aims to be the one stop for those in the Trade:

10% instant discount on the whole range of bathroom furniture and accessories, including designer and exclusive collections
Loyalty Bonus redeemable against future orders for up to an additional 5% discount
Satisfaction guarantee extended to 28 days
Next day delivery is currently offered in most areas of the mainland UK, the option to select a delivery date will be made available later on in the year for added convenience
Dedicated Trade Account Team
The most distinctive feature of Bathrooms.com Professional is that all members who sign up will be provided with their very own web page. This will allow members to pass on their own unique URL to their customers who wish to purchase bathroom products themselves and will receive a 5% discount as a result. Members will be able to offer their customers a great deal without getting involved in the purchase, whilst also benefiting from the Bathrooms.com Professional loyalty bonus from the orders placed on through their URL.
For further information or to join Bathrooms.com Professional, simply call 0800 65 22 724 or visit http://www.bathrooms.com, with your company registration or VAT number to hand.
# # #