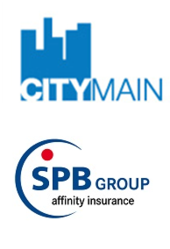 "This year will see the continued integration of new activities that support our European development – this will allow us to have a truly unique offer in terms of skills and geographical coverage. All of this will act as our overall base that we'll build
London, United Kingdom (Vocus/PRWEB) 12 April 2011
The SPB Group, the leading European administrator and provider of affinity insurance programmes, has announced its 2010 financial results. The SPB Group greatly accelerated its European activity in 2010 and combined with a strict cost control programme, significantly improved its operating profit compared to 2009, the height of the economic crisis.
The results mark a return to the SPB Group's 2008 financial result levels and a validation of the company's strategy for growth, which includes a specialised focus on international markets.
2010 was also a very active year for Citymain, the UK's leading "gadget insurance" specialist. During the year Citymain concluded a partial sale of their business to the SPB Group and also completed the acquisition of computer insurance specialists Burnett & Associates.
Results Driven By Subsidiary Growth and Acquisitions
Against the economic difficulties in 2010, the SPB Group reported a revenue growth in strong part due to the activities of its subsidiaries, as well as targeted corporate acquisitions. Both have allowed the group to accelerate its expansion throughout Europe.
The SPB Group posted a net revenue of €77.4m for 2010, of which 19% was generated by European entities and corporations acquired by the SPB Group within the last two years. This percentage is expected to reach 30% in 2011.
The SPB Group's operating income also rose to €5.6m (compared with €5m in 2008 and €3m in 2009). This increase can again be credited to the contributions of recently acquired companies, as well as the group's European subsidiaries themselves.
2010 Highlights: Development and Diversification
The year's highlights included majority shareholdings in three companies:

Citymain, the UK firm offering insurance for hi-tech products and covers bundled with bank cards
PC Garant (now SPB Garant), a German services company specialising in breakdown insurance for computer hardware
O2M, a French specialist in recycling electronic goods.
With these three acquisitions, the SPB Group continues its strategic development for external growth. The group has now recorded six acquisitions within the space of two years.
When these acquisitions are combined with the group's other subsidiaries, the SPB Group is now strongly represented in the five major European markets: Germany, Spain, France, the UK and Italy, as well as in Poland, Central Europe's most buoyant market. The group also has activities in Belgium, Luxembourg, Portugal and Switzerland.
In addition to expanding geographically the Group continued to grow its range in order to meet new needs. The new products and success stories in 2010 include:
The ability to launch solutions that match new consumption trends, with offerings specially designed for the iPad (distributed in the UK, France, Spain and Belgium) and game console insurance, which proved highly successful (the ten-million console milestone was passed in 2010).
Development in the breakdown cover market, which SPB entered in 2009. These covers supplement the theft/breakage programmes for an extensive range of white, brown and grey products.
Assistance and support for large corporate accounts, with two new big-name customers in the French mass retail market in 2010 (Auchan and Leclerc) and closer relations forged with key players such as Mediamarkt, Gamestop/Micromania and Carrefour through new offerings in Europe.
Diversification into other business, especially online insurance sold by Citymain's clients who are FSA regulated in their own right as well as breakdown management for company computers provided by Burnett's.
In the UK itself, Citymain has pioneered offers in the online retail space of mobile phone, gadget and laptop insurance. Via several new and existing websites, Citymain can now offer and provide full insurance cover for a range of existing devices such as smartphones, iPhone, laptops and games consoles, as well as new technology products such as the iPad.
Citymain has also continued strengthen the "point of sale" channel with several new retailing partners launching programmes. Citymain's ability to support a retailer's programmes by collecting monthly insurance premiums by credit card has greatly supported this channel.
Key Objectives For 2011
The SPB Group's main objective for 2011 is to continue to consolidate developments throughout Europe by developing synergies, innovations and best group practices among the nearly 1,000 group employees throughout Europe. Supporting major international accounts will also be a key focus for the continued growth of the group.
"This year will see the continued integration of new activities that support our European development – this will allow us to have a truly unique offer in terms of skills and geographical coverage. All of this will act as our overall base that we'll build upon for a successful 2011," said Jean-Marie Guian, CEO of SPB.
"Citymain's relationship with the SPB Group has brought us many opportunities which were not previously available, such as serving the group's pan-European clients here in the UK market," said Paul Kelsey, Managing Director of Citymain. "We continue to develop and enhance our own product portfolio in line with the groups objectives of providing cutting-edge, consumer facing insurance products to the banking sector, consumer electronics retailers and other 'niche areas' which are seeing growth."
About Citymain
With 26 years of experience, Citymain has established itself as one of the UK's leading independent providers and administrators of specialist insurance products. Citymain's core products include insurance products for mobile phones, laptops, handheld gadgets, brown and white goods as well as purchase and identity theft protection, price promise and other card enhancement services.
Citymain's head office and call centre is based in Ryde on the Isle of Wight, with operations also based in the Lloyds Building of London.
http://www.spb.eu
http://www.citymain.com
For further information please contact:
Neil Spanswick
Citymain
Email: [email protected]
Tel: +44 (0)1 983 618 194
Mobile: +44 (0)7786 922 640
Erin Mullally
Hopscotch Europe In One
Email: [email protected]
Tel: +44 (0)2 081 333 140
###