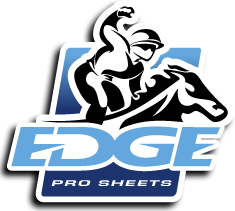 Over $3000 in free, real cash prizes up for grabs!
Clayton, Ohio (PRWEB) April 15, 2011
Edge Pro Sheets has released its schedule of horse racing cash freeroll tournaments for the remainder of 2011, starting May 7th, 2011, with the Kentucky Derby Day $1000 freeroll and ending with the Christmas Cash freeroll on December 10th with a $500 prize pool. There are a total of 10 events, each with a cash payout; every event is free and is available to members of Edge Pro Sheets; becoming a member at the "Edge" is easy! Signup is free, takes only a few seconds and you can sign up by visiting the Edge Pro Sheets website.
The tradition of cash freeroll tournaments began last year with The Breeders Cup Freeroll Tournament 2010 and is now an integral part of the Edge Pro Sheets horse racing handicapping experience. This schedule of cash freerolls complements the normal schedule of freerolls which pay off in EPS bucks, on a daily basis. EPS bucks are a way for handicappers to keep track of how they are doing, and the EPS bucks will eventually be redeemable for cash and prizes. EPS bucks are given to all who sign up and we'll make sure that every handicapper has at least 300 EPS Bucks every month should he or she need them. There will be additional rewards for those handicappers who rank high on the Edge Pro Sheets Tournament Leader board.
Edge Pro Sheets designs its handicapping tournaments so that players can play along in real time with real results as the races unfold each day.
Edge Pro Sheets is pleased to note that there is a chat feature coming soon and many videos on site for handicappers to view while making their tournament selections. Information sheets will be available some time in the near future directly on the site, but are available now on one of our affiliate sites.
Cash freerolls currently scheduled are as follows: $1000 on Kentucky Derby Day, May 7th,
Monthly freeroll for $100 on June 4th,
2 events on July 4th, each for $235 (because the U.S. will be celebrating its 235th anniversary),
$100 monthly on August 7th,
$200 Labor Day freeroll on Sept. 5th,
$100 monthly freeroll on Oct. 1st,
The Breeders Cup Freeroll on Nov. 4th for a $300 prize pool, a second freeroll for The Breeders Cup, Day II on Nov. 5th for $500,
The year's finale is the Christmas Cash Freeroll on Dec. 10th for $500
There is much more planned in the way of member profiles, discussion forums, live chat between players and many more freeroll events. We hope to see you in the winner's circle!
###