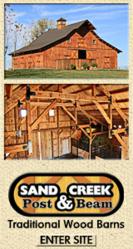 "We are very happy with the internet exposure we will be able to give Sand Creek this will put two of the fastest growing companies in Alabama together and give a great product for our viewers."
McComb, MS (Vocus/PRWEB) April 13, 2011
Alabamalandsource.com, an internet based real estate listing website specializing in internet exposure for Alabama land for sale Real Estate Brokers, announced that Sand Creek Post & Beam of Wayne Nebraska will be the major sponsor for their Alabama land website. This new partnership with Alabamalandsource.com, the states fastest growing land listing web site and Alabamas' premier barn and outbuilding kit manufacture which will give Sand Creek Post & Beam tremendous exposure to potential buyers of rural real estate nationwide. Chuck Magee, National Sales Director of Alabamalandsource.com, LLC says, "We are very happy with the internet exposure we will be able to give Sand Creek this will put two of the fastest growing companies in Alabama together and give a great product for our viewers."
Alabamalandsource.com incorporates many types of properties into their site data base, you can search for rural land, ranch, hunting, commercial, and residential housing all on the same site using the built in search engine. Alabamalandsource.com has also included enhanced mapping and demographical data of every city in Alabama.
alabamalandsource.com has some of the most recognized real estate brokers in Alabama on their site as well as some of the fastest growing business in the South East United States as advertisers. This partnership will be a key player in bringing buyers of traditional barns and outbuilding kits to Sand Creek through the extensive Alabama land for sale network.
Looking forward, Alabamalandsource.com will continue to apply leading internet marketing techniques for its Alabama real estate brokers and retail advertisers. Land Source is the first internet marketing effort for most of their retail advertisers whom are looking for a targeted Alabama audience.
About Alabamalandsource.com
The Alabama Land Source staff has over three decades of land sales experience itself and has been able to use that knowledge to enhance their web site for more information that buyers demand now and also better positions the staff to be more helpful than other listing platform websites. For more information, contact the National Sales Director, Chuck Magee at 601-551-5877or visit http://www.alabamalandsource.com.
###