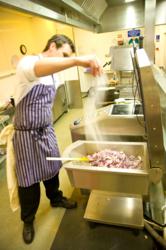 (Vocus/PRWEB) 14 April 2011
The Warwick Arts Centre at the University of Warwick is one of the biggest art centres outside of London. The prestige venue has a 100+ seater restaurant, called Eat, which is due to be developed into an upmarket, bistro-style eatery with a theatre kitchen. The new bistro's menu is being planned around a singularly modern piece of cooking equipment – the FRIMA VarioCooking Center.
"The restaurant had a small kitchen that we plan to open up so customers can see the chefs at work," says Graham Crump, executive development chef of the University of Warwick campus. "We had conventional equipment in there – stoves, solid tops and so on – and one of the things we wanted to do was cut down on the amount of heat we were generating, both for our customers' sakes and for our chefs'. We needed equipment that would look good front of house, but it also had to be energy efficient, to comply with the University's environmental policies. Of course, the main criterion was that it had to be able to do its job well."
Graham Crump found the piece of equipment that could meet all these criteria when he went to a demonstration for the VarioCooking Center. "The bistro is going to be offering 40 or 50 different menu items, so my next question was, 'does it have the versatility to do everything?' The answer was an emphatic 'yes'." In fact, the FRIMA is a multi-function unit combining a bratt pan, kettle, tilting pan, pressure cooker and a deep-fat fryer – all in one.
Having replaced a solid top and oven with the VarioCooking Center, the next hurdle was to persuade the normally technophobic chefs to use it. In the event, they took to it almost instantly.
"They needed very little convincing," says Graham Crump. "Usually chefs run a mile from hi-tech equipment, but they really like using the FRIMA, because it helps them by monitoring the cooking process. They're very happy to experiment with it, too, trying out new recipe ideas."
The FRIMA model at the University is the twin-pan VCC112. "It's working really well, very reliably and is easy to keep clean, which will be very important in the theatre kitchen."
Graham Crump is equally enthusiastic about the unit's energy-saving potential. "Most kitchens will have solid tops on all day, wasting energy and generating heat. The FRIMA is really fast to heat up, so we just turn it on as and when we need it. There's no need to leave it switched on. Energy savings alone could pay for the unit in a few years."
The quality of the VarioCooking Center's cooking is excellent, too. "It offers loads of advantages," says Graham Crump. "For example, it's great for slow-cooking. Also, we know we can leave food, it won't burn or stick and there's no need to stand and stir. Because the cooking processes are automatic it means chefs can get on with other tasks.
"It's an incredibly versatile piece of kit. Some nights we can serve up to 200 or more covers, and it copes easily. We've built the new bistro menu around it, but it's equally at home with the more traditional restaurant's menu. We can use it for everything from grilled steaks to pasta, and for deep frying, sautéing, casseroles...."
Graham Crump says it's this versatility that is perhaps the VarioCooking Center's most impressive feature. "It's as flexible as you want it to be. If you want to cook traditionally, it can do that. But if you have an open mind, and you're prepared to think outside the box, you can do absolutely anything with it."
FRIMA is currently expanding its distributor network in the UK. For information and brochures, or to come to a free Cooking Live demonstration, call FRIMA UK on 0208 996 5102, email info(at)frima-uk(dot)co(dot)uk or visit http://www.frima-uk.co.uk
###