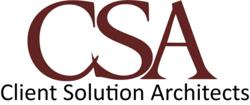 (Vocus/PRWEB) April 12, 2011
Client Solution Architects, LLC, announced today that it will be presenting a webinar sponsored by and in coordination with the Ft. Detrick Business Development Office, located in Ft. Detrick, Maryland. The webinar, entitled "The Fundamentals of Capture Management", is the first in a two part series designed to educate companies on the processes, regulations and best practices in identifying, bidding and winning government contracts. Part I of the webinar is scheduled for April 14th from 11:30 to 12:30 PM EST. Part II will be presented in August 2011.
This course will present the fundamental capture and contracts management processes needed to bid and win federal government contracts. The capture management processes include business development, client relationship management, competitive intelligence and client intelligence. The contract management processes include compliance requirements management and other contract administration responsibilities. Teaching the course from CSA will be Jay Heroux, Director of Client Development at CSA and Joel Judy, CSA Commercial Contracts Manager. A unique feature of this course will be discussing the importance of a collaborative partnership between a company's sales and marketing organization and the contracts management organization of the client and the company.
"The federal marketplace is highly competitive and a company's business development strategy needs to maximize its differentiators and capabilities to meet the needs of clients. Additionally, the regulatory requirements are increasing and new companies are entering this marketplace. Preparing and submitting compelling and compliant proposals is critical in order to achieve the return on investment from sales and business development activities. Joel and I are very excited to have the opportunity to demonstrate how sales and contracts management must work together in order to create winning and compliant proposals," said Jay Heroux, Director of Client Development.
The Fort Detrick Business Development Office FDBDO was established in 2005 through a government contract awarded by the U.S. Army Medical Research and Materiel Command's U.S. Army Medical Research Acquisition Activity to support Fort Detrick. Since its inception the FDBDO has assisted over 2,500 companies. The FDBDO's efforts helped these companies better understand and participate in the business opportunities at Fort Detrick.
For information about the webinar log onto http://www.fdbdo.com/news-events/.
About CSA — CSA is a professional services firm providing strategic guidance and operational performance solutions to government and commercial clients. CSA helps clients achieve their goals by enhancing organizational performance and maximizing return on investments. The firm helps clients plan and execute processes associated with Project and Portfolio Management, Acquisition and Program Management, Contracts Management, Business and Financial Management, Logistics and Supply Chain Optimization and Business Improvement and Analytics Services. The firm delivers services by combining deep process expertise with strong program management disciplines, analytics and a focus on performance results.
###