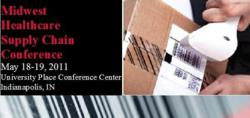 Kingsville, Texas, USA (Vocus/PRWEB) April 14, 2011
Mr. John Howe, CEO of Active CC Boxes, LLC, will lead a round table discussion at the 2011 Midwest Healthcare Supply Chain Conference in Indianapolis, IN, on May 19, 2011. The round table discussion titled "Make Reusable Packaging Successful in your Organization" will focus on overcoming the challenges of using reusable packaging to ship temperature sensitive products.
Active CC Boxes will also demonstrate its Kodiak™ passive system with active temperature control in the exhibit area of the conference.
To learn more about using reusable cold chain packaging in your company, join Mr. John Howe at this year's Midwest Healthcare Supply Chain Conference Thursday, May 19 2:00 – 4:00 pm. You can also contact John directly at 361-592-3615 or jhowe(at)activeccboxes(dot)com.
# # #