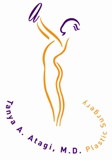 Lone Tree, CO (Vocus/PRWEB) April 13, 2011
Dr. Tanya Atagi, board-certified Denver plastic surgeon and medical director of Atagi Plastic Surgery & Skin Aesthetics, is launching an array of new non-surgical cosmetic laser services to her state-of-the-art facility in Lone Tree, CO.
In addition to offering plastic surgery procedures that have ranked her as a "Top Doc" in Denver for years, Dr. Atagi will now provide patients with the latest advancements in Sciton laser technology, such as Broad Band Light (BBL) laser hair removal for all skin and hair types, ProFractional Laser Skin Resurfacing, SkinTyteTM Laser Skin Tightening, BBL Photo Facial, and MicroLaserPeelTM ("The Weekend Peel").
Whether patients want to remove wrinkles, tighten skin, reduce sun damage, even out tone, create a smoother skin texture or all of the above, the new cosmetic laser treatments at Atagi Plastic Surgery & Skin Aesthetics can safely and effectively treat these problems – no incisions and minimal downtime!
Dr. Atagi will be hosting a free, informative beauty seminar to help past and prospective patients learn how these new laser treatments, in addition to her existing plastic surgery services, can help both men and women look their best in time for summer; the event will include refreshments, special event night promotions and a raffle prize drawing to win BOTOX®, Laser Hair Removal, Microdermabrasion and a special Atagi Skincare Basket.
The "Get Ready for Summer" seminar will be held at the Denver South Marriott (10345 Park Meadows Drive) in Lone Tree, CO on Wednesday, April 27 at 6 PM. Though seating is limited, attendance is open to all parties interested in the cosmetic enhancements offered by Dr. Atagi. To RSVP for the "Get Ready for Summer" seminar or for more information about the services offered at Atagi Plastic Surgery & Skincare Aesthetics call 303-327-7304.
About Atagi Plastic Surgery & Skincare Aesthetics:
Atagi Plastic Surgery and Skin Aesthetics is known throughout the Denver metropolitan area and beyond for stellar service from a highly skilled and experienced team. Atagi Plastic Surgery & Skincare Aesthetics is located on the Sky Ridge Hospital campus and offers a serene, spa-like atmosphere in which to pursue cosmetic surgery or skincare services.
One of only a handful of board-certified, female plastic surgeons in Colorado, medical director Dr. Tanya Atagi is a fellowship-trained plastic surgeon who received her undergraduate and medical degrees from Stanford University, plastic surgery training at Barnes-Jewish Hospital, Washington University in St. Louis, and completed specialized aesthetic fellowship training in Denver. Now highly regarded in her field, she has published papers on nerve regeneration, implantable medical devices, as well as breast enhancement and the safety of implants.
In the 7 consecutive years since opening her practice in 2003, Dr. Tanya Atagi has been honored by her physician colleagues as a "Top Doctor" in Denver's 5280 Magazine.
###