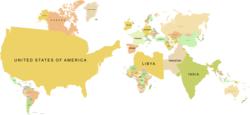 London (Vocus/PRWEB) 13 April 2011
A map showing which countries small businesses called the most on their telephones in February 2011 highlights some interesting facts about Britain today. In particular it reveals Britain's heavy links with the Indian subcontinent and how the recent crisis in Libya was followed by a flurry of business calls as business owners spoke to friends, family and business contacts there. The data is taken from a records of international calls made by the 120,000 small business customers of UK business phone line and broadband provider XLN Telecom.
The world map shows any country with a greater than average number of calls in proportion to the amount of calls it receives – so, for example, the Netherlands receives almost three times as many calls from small businesses as an average country and on the map it appears almost three times as big as it would on a normal map.
The map shows the rich links businesses in this country continue to have with traditional trading partners such as the USA and Europe. It also shows, perhaps unsurprisingly, a high degree of small business links with India and Pakistan where many small business owners have family and business contacts.
One interesting result of the mapping process was to highlight how business calls can mirror world events. The recent troubles in Libya have driven a disproportionate amount of calls to that country, with businesses checking up on family, friends, and perhaps suppliers and business partners. There were just 8,058 calls made by XLN Telecom's customers to Libya in December compared with 16,046 at the height of the troubles in February.
If you did not receive a copy of the map with this release, please visit: http://www.xlntelecom.co.uk/files/phone_calls.pdf
Country called and the number of calls made compared with average of all countries (1= average, 2 = twice as many calls as to an average country)
ireland 9.679622761
pakistan 9.5711361
united states 9.181254109
libya 8.524149629
india 7.303481426
france 6.519079059
spain 4.827614823
germany 4.552661694
italy 3.227114462
turkey 3.065286379
netherlands 2.779252664
canada 1.929655226
australia 1.464528329
sri lanka 1.08881918
Additional information
For more information, interview opportunities or additional quotes, please contact:
Barney Jones 020 7793 2778
XLN Telecom
About XLN Telecom
XLN Telecom Ltd. was founded by Christian Nellemann in 2002. It is located in London, United Kingdom. Deregulation of the UK Telecom's industry has enabled XLN to offer an alternative phone service to BT™ at a considerably lower cost.
XLN is the fastest growing independent Telecom Service Provider in the UK focusing on the Small Business sector. The company is profitable and backed by a leading institutional investor.
XLN's founder and CEO was first recognised as Ernst & Young's Entrepreneur of the Year in 2006 for Technology and Communication, winning again in 2010. The Business Telephone Provider has also been a National Business Awards Finalist for 5 years: 2004, 2005, 2006, 2009 and 2010. In 2007 and 2008, XLN Telecom was ranked on the Sunday Times Tech Track 100 survey of the 100 fastest growing technology companies in the UK and won the Small- to Medium-sized Enterprise category of the 2010 Best Business Awards.
###