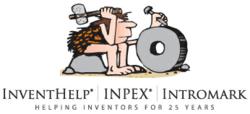 Pittsburgh, PA (PRWEB) April 13, 2011
InventHelp®, America's largest inventor service company, announces that one of its clients, an inventor from California, has designed a greeting card collection designed to appeal mainly to bigger-sized consumers. This invention is patented.
"Bigger Collection Greeting Cards" could provide warmth and light to recipients as the message conveyed would be a central message that all people are equal. Mechanical lights located on the inside and outside of the cards would light up and flash when opened, which would create an appealing visual. The design of the greeting cards is intended as a larger selection of cards for a many different people.
Bigger Collection Greeting Cards would consist of paper cards that are rectangular in shape and producible from paper. Electronic lights would be located on the outside and inside of the card. The lights would be activated when the card is opened. Greetings and images would be printed inside the card and designed to appeal to plus-sized people, but may also appeal to any user. Bigger Collection Greeting Cards is producible for special occasions, holidays and everyday occasions.
InventHelp® is attempting to submit the invention to companies for review. If substantial interest is expressed, the company will attempt to negotiate for a sale or royalties for the inventor. For more information, telephone Dept. 10-LAX-112 at (800) 851-6030.
# # #