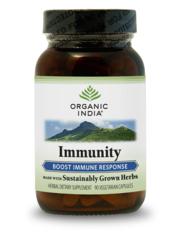 Boulder, CO (Vocus/PRWEB) April 14, 2011
ORGANIC INDIA USA showcased their new Immunity formula at Natural Products Expo West, the nation's largest natural products trade show last month. New Hope Natural Media, the show's organizers, subsequently named Immunity as one of the top 10 new supplements of the year. The full story is available online at http://newhope360.com/supplements/best-new-supplements-expo-west-0.
ORGANIC INDIA USA's new Immunity formula provides powerful immune support in the face of free radical damage, environmental toxins and stress. Immunity helps boost immune system function by combining the benefits of deep rejuvenation with natural detoxification. Abundant in antioxidants, Immunity helps relieve stress, supports the liver and strengthens immune response.
Tulsi (Holy Basil), also used in ORGANIC INDIA USA's Tulsi Teas, is a primary ingredient in Immunity. As an adaptogen, Tulsi (Holy Basil) helps reduce the negative effects of stress. Katuki, Immunity's second ingredient, is an excellent antioxidant which works by attacking oxygen free radicals.
ORGANIC INDIA USA's Immunity formula is available at http://organicindiausa.com/_product_5842/Immunity and in retail stores.
About ORGANIC INDIA
ORGANIC INDIA works with thousands of family farmers in India, cultivating tens of thousands of acres of certified organic farmland. The farmers are commissioned to grow organic crops which ORGANIC INDIA purchases at a premium market price. ORGANIC INDIA supports their farmers by providing training, health care and education that enable them to be self-sufficient and to develop organic farming skills that will be passed on to future generations.
ORGANIC INDIA markets certified organic, biodynamic and ethically wildcrafted products throughout India, the United States, Israel, the United Kingdom, the Czech Republic, Japan and Australia. To purchase products or for more information, please visit http://www.organicindiausa.com.
###