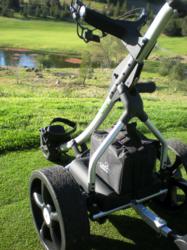 "I was blown away by how much energy myself and the remote control golf caddy still had."

Eric
Augusta, GA
Santa Rosa, CA (Vocus/PRWEB) April 13, 2011
Anyone looking for a low priced remote controlled electric trolley for golfing can now take advantage of a brand new product from Green Ray Vehicles. Since late 2008 Green Ray Vehicles has been working to create a low cost, high spec electric golf caddy that outperforms all others on the market and is just what golfers are looking for - and their newest version just became available.
"It's almost impossible to find an electric caddy that's remote controlled for under $600," said Tom Knickerbocker of Green Ray Vehicles. "What's more, ours is about 10lbs lighter than most other trolleys on the market. Purchasers can also choose from three different accessory bundles. These include such items as a cup holder, scorecard holder, umbrella holder, a seat and a carry bag. These can also be bought individually."
Green Ray Vehicles is a small but up and coming company formed in late 2008. It is currently focusing on adding two new models to its range. One of these will be a lower end electric push caddy with a single motor, while the other offers upper end features such as a digital display with a new wheel design and a digital odometer.
Previous customers have been keen to sing the praises of the company and the golf trolley. Eric from Augusta says, "I walked 36 holes two days in a row and I was blown away by how much energy myself and the remote control golf caddy still had."
Another happy customer stated that "the cost and functionality of the remote control golf caddy more than met my expectations. I strongly recommend the caddy to any golfer who likes to walk the course."
Tom Knickerbocker for Green Ray Vehicles added, "Walking the course is much healthier than using a golf cart. But our golf trolleys mean players don't have to cope with pulling their trolleys around by themselves all day."
Green Ray Vehicles is based in Santa Rosa, California. They have created many electric vehicles and came up with the idea for an electric golf caddy to enable people to walk around the golf course without having to drag a caddy behind them. Each lightweight caddy comes with a host of accessories. The Green Ray Vehicles website can be found at http://www.greenrayvehicles.com. Full information about the electric caddies can be found here.
###