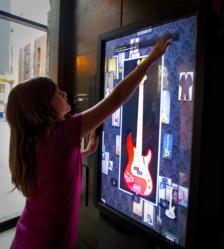 Pleasanton, CA (Vocus/PRWEB) April 12, 2011
NextWindow, a subsidiary of SMART Technologies, announces that Hard Rock Cafe International, which is owned by the Seminole Tribe of Florida, has deployed NextWindow 2150 touch screens at restaurants in Seattle, Washington; Dallas, Texas; Detroit, Michigan; and Berlin, Germany. The multitouch displays are attached to 52" (132.1 cm) NEC monitors implemented by NextWindow integrator Horizon Display. The multitouch-enabled monitors, called the Rock Wall™ Solo, enable customers to zoom in and experience rock 'n' roll memorabilia by, for example, reading the manufacturer markings on John Lennon's glasses. All company owned Hard Rock Cafes will have at least one Rock Wall Solo by the end of this year, and touch screens installed in 2011 will be attached to 55" Samsung monitors.
Starting in 2008, Hard Rock Cafe International installed 18' (5.5 m) wide, 4' (1.2 m) tall multitouch RockWall displays at its flagship cafés in Las Vegas, Nevada; Orlando, Florida; Los Angeles, California; and New York City, New York. The multitouch displays enable customers to view thousands of memorabilia items on a high-resolution interactive screen, rather than through a glass case. This way, users can experience the collection in a much more intuitive, detailed and larger-than-life manner. The RockWall™ Solo project offers the same content more cost effectively to customers at many other Hard Rock Cafe locations. Hard Rock Cafe International first began installing RockWall Solo displays in 2009 and continues to install them in locations around the world. Thus far, the multitouch displays have proven very popular. The RockWall Solo display installed at Hard Rock Cafe Seattle, for example, receives an average 3,000 touches per day.
"At Hard Rock, we're always thinking about ways to improve the customer experience," says Joe Tenczar, Senior Director of Technology for Hard Rock International. "Our goal is to reconnect people around the world with the music they love. Increasingly, technology is key to realizing this objective and in this case, touch technology has been a great fit for us."
About Hard Rock International
With a total of 170 venues in 51 countries, including 133 cafes and 15 Hotels/Casinos, Hard Rock International is one of the world's most globally recognized brands. Beginning with an Eric Clapton guitar, Hard Rock owns the world's greatest collection of music memorabilia, which is displayed at its locations around the globe. Hard Rock is also known for its collectible fashion and music-related merchandise, Hard Rock Live performance venues and an award-winning website. In addition to the two flagship Seminole Hard Rock Hotels and Casinos in Tampa and Hollywood, Fla., Hard Rock Hotels/Casinos are located in Las Vegas, Biloxi, Orlando, Chicago, San Diego, Pattaya, Bali, Macau, Penang, Singapore and Punta Cana. Additional hotel and casino projects have been announced in Panama, scheduled to open in 2012; and Hungary, Dubai and Abu Dhabi, scheduled to open in 2013. Hard Rock International is owned by Seminole Hard Rock Entertainment, Inc. For further details on Hard Rock Hotels and Casinos, visit http://www.hardrockhotels.com. For more information on Hard Rock International, visit http://www.hardrock.com.
About NextWindow
NextWindow, a subsidiary of SMART Technologies, is a supplier of optical touch panels and touch-screen components to electronics manufacturers. With accurate, cost-effective solutions designed for easy integration into all-in-one computers, computer displays and large-format screens, NextWindow develops the hardware necessary to bring touch-screen technology to life. Founded in 2000, NextWindow has offices in New Zealand, Taiwan, the United States, Singapore, Korea and Japan, with manufacturing facilities throughout Asia. SMART Technologies is a leading provider of collaboration solutions with more than two decades of research and development and a broad range of easy-to-use, integrated solutions.
For more information, please contact:
David Villarina
Marketing Manager
NextWindow
Office +1.925.272.4530
E-mail dvillarina(at)nextwindow(dot)com
nextwindow.com
© 2011 NextWindow Limited. NextWindow and the NextWindow logo are trademarks or registered trademarks of NextWindow Limited. All third-party product and company names are for identification purposes only and may be trademarks of their respective owners.
###