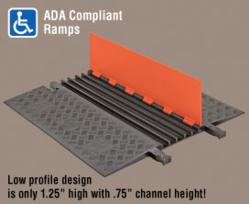 Las Vegas, NV (Vocus/PRWEB) April 13, 2011
Checkers Industrial Safety Products occupies a premier spot at the annual National Association of Broadcasters (NAB) 2011 show, exhibiting LINEBACKER® & GUARD DOG® Modular Cable Protectors. Their booth location is C2046, and representatives from Checkers will demonstrate the safety measures now obtainable with the availability of VELCRO® brand fasteners and rubber pads for their cable protectors. With capabilities to ship products worldwide, the Checkers products will increase safety in all types of broadcast facilities.
Cable Protectors are used to shield valuable broadcast, multi-media, electrical and data cables from vehicle and pedestrian traffic that needs access over them in a safe manner. Safety is critical in broadcast environments, yet the movement of equipment and people can be complex. Each cable or hose line is separated in its own housing to keep the cable itself secure. The top loading feature with a hinged door that opens to place in the lines and closes securely for protection is just one of the features on both the LINEBACKER® and GUARD DOG® modular cable protectors. The connectors on each make them easy to assemble and take apart, with the load capacity on some of the models over 28,000 pounds.
LINEBACKER® modular cable protectors are the more heavy duty version with capacity for two, three, four and five lines, with a drop over edition for one cable. The versatile protectors can hold 1.25" in width up to 3.25" for wider cables and cords. A "T" shaped connector brings the pieces together for a secure hold as wheeled vehicles and pedestrians pass over it. Safety yellow and orange are the colors of these protectors, except for the drop over version which comes in gray.
GUARD DOG® modular cable protectors are very appropriate for the broadcast environment with the capacity for one, two, three or five channels with widths of 3/4" to 2 ¼". "Dog bone" connectors keep the 36" long protectors securely fastened to ensure the safety of those crossing over it. These heavy duty cable protectors come in a bright safety orange and gray.
Checkers Industrial makes accessories for the Americans with Disabilities Act guidelines for accessibility for both LINEBACKER® and GUARD DOG® modular cable protectors. The GUARD DOG® one to three channel ramps which travel over the cable lines are only 1.25" in height, whereas the five cable protector is just 1.6" in height. LINEBACKER® ramps and rails can be purchased separately for specific protectors.
According to OSHA, cable protectors have the potential to reduce nearly 4,000 injuries per year caused by tripping and falling. Velcro® fasteners and rubber pads are additional accessories that enhance the value of these cable protectors by keeping the protector even closer to the surface on which it is sitting. Velcro® and the rubber pads are attached to the bottom of the protector with Checkers® Clear Super Glue included in the order. The permanently affixed Velcro® grips the carpet and the rubber pads add traction for anti-slippage of the protectors.
LINEBACKER® and GUARD DOG® cable protectors are covered by a one year warranty, and with proper assembly and usage, they may never need replacement. All of the various formats of these cable protectors satisfy state and federal regulatory agency standards, with safety warning symbols molded into the lids. In addition, all of Checkers Industrial cable protectors are made in the U.S.
Checkers® Industrial Safety Products has been manufacturing and providing superior safety products for nearly 25 years. The company employs service professionals that are trained to provide safety products including cable protectors, wheel chocks and parking stops to improve the safety in the consumer and industrial markets. Most products are made in the USA using reaction injection molding by RimStar technology.
The NAB Show runs from April 11-14, 2011 at the Las Vegas Convention Center. Over 90,000 media and entertainment professionals from 150 countries are expected to attend the show featuring nine conferences, three training programs and more than 500 skill-building sessions. 1500 unique companies, including Checkers Industrial, will be displaying in booths spread out over 800,000 square feet.
###