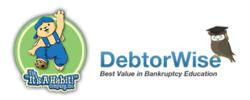 "DWF takes great pride in launching our partnership with IAHC and Sammy Rabbit," said Dr. Robert D. Manning, consumer finance expert, author of Credit Card Nation and founder of DWF.
Rochester, NY (PRWEB) April 18, 2011
Today, the nation's nonprofit leader in technology-driven financial education innovations, the DebtorWise Foundation (DWF), announced its partnership with It's a Habit Company, Inc. (IAHC), a global leader in live and interactive financial education programs for young children.
DWF will deploy its path breaking personal finance empowerment site, MyMoneyEd, to promote and distribute IAHC's internationally renowned Sammy the Rabbit presentations as well as its widely popular library of audio stories and music that includes infectious songs like "Get in the Habit" and "Big Ol' Dream." Additionally, the new business development team will be creating new interactive educational content and programs including Sammy the Rabbit and DWF's mascot for financial wisdom, Hootie the Owl.
"DWF takes great pride in launching our partnership with IAHC and Sammy Rabbit," said Dr. Robert D. Manning, consumer finance expert, author of Credit Card Nation and founder of DWF. "It is critical that we reach children at an early age before they begin to mimic the financial behavior of their over indebted parents. IAHC and Sammy have been incredibly successful in engaging young children with their award-winning, cutting-edge, personal finance programs. Our nation's economic future depends upon the success of these innovative financial literacy initiatives."
"IAHC and Sammy Rabbit are honored to collaborate with DWF, the nation's leading advocate for consumer and family financial empowerment," declared Sam X Renick, award winning children's author, financial education innovator and founder of IAHC. "It is exhilarating to work with an organization that is dedicated and uncompromising in its fight to provide consumers access to affordable tools that change lives and make dreams come true. Through DWF, MyMoneyEd, affiliated organizations, and the groundbreaking tools that they have created, Dr. Manning and his team are breathing life back into the American dream and providing tangible hope for ordinary citizens at a time when we all desperately need it. That is a mission and an endeavor that Sammy Rabbit wholeheartedly supports. "
For more information on the collaborative programs being developed through this new partnership, please contact Donna Slavin at 585.270.8398.
About the DebtorWise Foundation
DebtorWise Foundation is a Rochester, NY based nonprofit organization that is dedicated to providing affordable financial education to financially distressed and low-income households. Founded by Dr. Robert D. Manning, one of the nation's leading consumer finance scholars and consumer advocates, Debtorwise is the one of the leading providers of online Credit Counseling and Debtor Education courses that are required by the Federal Court for filing consumer bankruptcy. Also, DebtorWise is the national leader in developing demographically specific financial education courses. All DebtorWise courses are available in Spanish and English. They are conducted over the internet and by telephone.
Additionally, DebtorWise Foundation is an innovator in community financial outreach programs. It has established the path breaking "First-Generation Pathways" internship/mentorship program for High School seniors who will be the first in their families to attend college. It also offers practical financial information materials in Spanish and supports underserved, low-income Latino migrant worker outreach programs. In late 2011, DebtorWise foundation will be launching a major empirical study of consumer bankruptcy. This longitudinal project will be the most comprehensive study of Chapter 7 and Chapter 13 filers since the 2005 reform of the consumer bankruptcy code.
You can learn more about the DebtorWise Foundation and its mission at: http://www.debtorwise.org
About It's a Habit and Sammy Rabbit!
The Los Angeles-based company was founded in 2001 by financial education innovator and award winning social entrepreneur Sam X Renick. It is a global leader in live, interactive family financial education programming based on its main character, Sammy 'the get in the habit' Rabbit.
The mission of IAHC is to provide children, families, and interested organizations with strategic tools that encourage good personal habits, especially saving money and reading. By using original stories and songs from one of the world's largest audio financial education libraries, together with catchy slogans like "Saving is a Great Habit," and "From Every Dollar, Save A Dime," children are encouraged to take a dull and daunting subject and turn it into a fun, self-empowering life lesson.
Renick and his team are internationally recognized for their contributions to increasing financial awareness in the minds of both children and adults. They have received numerous awards including a 2009 Induction onto the Loyola Marymount University "Entrepreneurs Wall of Honor" as well as the prestigious California Jumpstart Coalition Leadership Award in 2007 for excellence in financial education. Additionally, It's a Habit has earned the unique distinction of having its financial education products win awards on three different levels: High School, University, and Corporate.
You can learn more about IAHC and its mission at: http://www.itsahabit.com
# # #