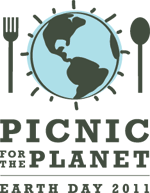 Arlington, VA (PRWEB) April 13, 2011
The planet does a lot for us— let's take it out for lunch.
On April 22—Earth Day 2011—The Nature Conservancy will host Picnic for the Planet, a global celebration of the planet we live on, the food it provides and the people we share it with. The concept is simple: no matter where you live, head to a favorite outdoor spot and enjoy good food in the company of great people.
Currently, there are more than 350 picnics on six continents; new picnics are popping up on the meetup.com online hub every day in cities like Dublin, San Francisco, New York and Bucharest. Those interested in sharing images, videos and stories from their picnics are encouraged to use the tag "#picnic11" on Twitter, Facebook, Flickr and/or YouTube. Highlights will be featured on the Conservancy's website, nature.org.
Picnic partners include Chipotle Mexican Grill, Back to Nature Foods, Aol and meetup.com. The integrated effort includes in-restaurant activation, digital and social media and events at 70 college campuses across the United States.
Who: The Nature Conservancy, hundreds of communities and thousands of individuals around the world
What: Picnic for the Planet, a global celebration of the planet we love and the great food it provides
When: On or around Earth Day, Friday, April 22
Where: Find a picnic near you—or host your own—at nature.org/earthday
###