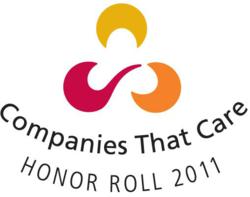 Loren Ahlgren, VP, Enterprise Fleet Management, "...it's very exciting to be named to the Honor Roll again for the fifth year in a row."
St. Louis, MO (Vocus/PRWEB) April 13, 2011
St. Louis-based Enterprise Fleet Management has made the 2011 Honor Roll for the Center for Companies That Care.
The Honor Roll recognizes employers for outstanding workplace practices and active community involvement, and includes both privately-held and publicly-traded organizations as well as not-for-profit employers. Honorees demonstrate 10 Characteristics that go to appreciating people, work/life balance, and giving back. This uniqueness defines the standard for all organizations that strive to be recognized as best places to work and being socially responsible.
Enterprise Fleet Management acknowledges the importance of taking care of its employees and the communities it serves. "Increasing productivity is always a priority for us. We invested more than $50,000 in tools, resources and training in 2010 alone," explains Loren Ahlgren, VP, Enterprise Fleet Management. "So it's very exciting to be named to the Honor Roll again for the fifth year in a row."
A full-service fleet management business for companies with mid-size fleets, Enterprise Fleet Management supplies most makes and models of cars, light- and medium-duty trucks and service vehicles across the United States. Enterprise Fleet Management is owned by the Taylor Family of St. Louis, who, through regional subsidiaries, also own and operate Enterprise Rent-A-Car's extensive network of more than 5,500 neighborhood and airport branch offices, all located within 15 miles of 90 percent of the U.S. population.
With 58 fully-staffed offices nationwide, Enterprise Fleet Management has been recognized with the Automotive Service Excellence (ASE) "Blue Seal of Excellence" award for 13 consecutive years, an industry record. In addition, it won the 2009 American Business Award for Environmental Responsibility Program of the Year.
Enterprise Fleet Management continues to support a comprehensive set of environmental initiatives, which includes helping customers purchase verifiable greenhouse gas emission offsets by pledging to match a portion of each customer's greenhouse gas offset purchases up to a total match of $1 million.
"Increasing productivity has facilitated Enterprise's preserving jobs, paying competitively, offering benefits and maintaining its community service efforts," says Marci Koblenz, founder and president, Center for Companies That Care. "That's why they continue to make our Honor Roll list year after year."
Honor Roll recipients will be officially honored at a 360° engagement conference in Portland in May, where Joseph Grenny, the author of "Crucial Conversations," is keynoting. Many Honor Roll organizations will be sharing their best practices during the conference. It is open to the public.
Center for Companies That Care is a national, 501(c)3 not-for-profit organization dedicated to engaging employers in improving the lives of employees, families and communities.
If you're interested in applying for the 2012 Honor Roll, or would like to see the full 2011 Honor Roll, please visit http://www.companies-that-care.org or call 312.661.1010.
###