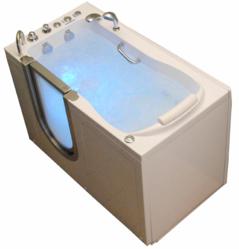 All of life's little luxuries should be affordable for everyone.
Chicago, IL (PRWEB) April 13, 2011
Ella's Bubbles – (Ella's Walk-in Tubs) is an OEM Manufacturer of the highest quality acrylic walk-in bathtubs based in Chicago. Ella's has been specializing in acrylic walk-in bathtub development, as well as streamlining production and distribution since 2005. Ella's welcomes businesses and industry professionals to join its fast growing dealer and professional network throughout North America.
Ella's offers high quality acrylic walk-in bathtubs at the most competitive prices on single unit, truck load, or container orders delivered to your door!
We spent years crafting a tub with your needs specifically in mind. Our revolutionary dual-drain system empties the tub of water in 80 seconds so you don't have to wait a long time to exit your tub once your bath is complete. Our 22 air and hydro therapeutic massage jets are ideal for muscle aches and pains, arthritis, and joint pain. Our comfortable walk in tub seat allows for deeper submersion in your bath. Our built-in grab bars and slip-proof textured floor offer you a safe bathing experience. Our powerful 1.5KW in-line water heater keeps the water warm for as long as you choose. Our eco-friendly ozone sterilization system helps to maintain your walk in tub mold or bacteria free. Our gloss finish scratch resistant acrylic walk in tub shell and easy removable door make your tub easy to clean and access. Our lifetime warranty*, stainless steel frame, and copper and brass dual drain guarantee our tub will be a worthwhile investment for your safety and enjoyment.
Did you know that bathrooms are the #1 location of in-home accidents and falls? Protect yourself with an affordable luxury walk-in bathtub from Ella's Walk In Tubs. Here at Ella's Walk In Tubs our philosophy is that all of life's little luxuries should be available to everyone. Whether you're of limited mobility due to aging or a disability, or working with a fixed budget and unable to find a walk-in tub you can afford, we promise to give you what we believe to be the best walk-in tub on the market at a price that won't break your bank account.
To find out more about Ella's Walk In Tubs or to locate a dealer in your area, visit http://www.ellaswalkintubs.com or call 1-800-480-6850.
###