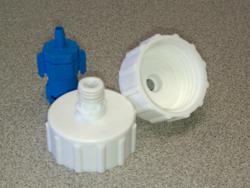 This product is not just covenant, it is safer. Technicians no longer need to expose themselves to open containers that may be filled with dangerous liquids." Lyle Sampson, Product Designer
Loveland, CO (Vocus/PRWEB) April 13, 2011
The KENT Systems revolutionary line of quick couplings and plastic fittings has entered into a whole new industry with the unveiling of their new bottle caps. The caps come with the patented KENT Systems male ¼ turn quick coupling and is available with the patented KENT Systems shut-off cam valve to keep your fluids inside the bottle when not connected.
The bottle caps allow the user to access the liquid within a bottle or media bag without the need of removing the cap. Simply connect the cap to a KENT Systems coupling and access the liquid inside. Removing the coupling will stop the flow of liquid from the container.
"This product is not just covenant, it is safer. Technicians no longer need to expose themselves to open containers that may be filled with dangerous liquids." Lyle Sampson, Product Designer
With this new line of bottle caps, KENT Systems can now cater to a much broader customer base and product range in industries such as: chemical handling, fluid cooling systems, and an ever expanding ink market. With the addition of this cap, customers can now maintain a closed system and reduce contaminates to their liquids.
"We have produced our new line of caps for only a couple of months and we already have a huge demand. It is nice to have engineers here at KENT Systems that are capable of further broadening our already extensive product lines". Adam Bauer, Project Design
KENT Systems has been designing and developing quick couplings, plastic fittings, and media bags for over 10 years. Made in the USA. More information about KENT Systems can be found online at http://www.KentSystems.com.
###