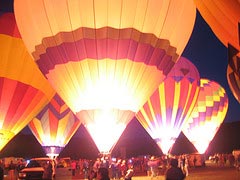 Aspen, CO (Vocus/PRWEB) April 14, 2011
In addition to the variety of outdoor activities in Aspen, Colorado, there are a wide array of events scheduled for summer 2011. Plan your Aspen vacation accordingly and be sure to check out some of the following events in Aspen and Snowmass Village this summer:
Chili Pepper & Brew Fest (June 3-4, 2011) – Kick the summer off right at the Chili Pepper & Brew Fest located in Snowmass Village, Colorado. Three components make this event a smokin' weekend – chili competitions and tastings, microbrewers facing off in a summer ale competition including samplings, and great music on Fanny Hill.
Food & Wine Classic (June 17-19, 2011) – Join us for the 29th Annual FOOD & WINE Classic in Aspen, Colorado. FOOD & WINE magazine presents a weekend of food samplings and wine tastings, along with cooking demonstrations. Raise funds for the Grow for Good campaign and enjoy a pleasure-packed weekend in Aspen.
Jazz Aspen Snowmass (June 24-26 & September 2-4, 2011) – Jazz Aspen Snowmass presents two summer events – the JAS June Festival and the Labor Day Festival. The June Festival is a ten day event including four nights of headline concerts at the Benedict Music Tent. Enjoy music from Sheryl Crow, Jennifer Hudson, Monty Alexander Harlem-Kingston Express, and more. Come Labor Day, don't miss the annual JAS Labor Day Festival in Snowmass Village. World-class music, international food and drinks, and crafts make this a local favorite. Headliners include Thievery Corporation, Steely Dan, Michael Franti & Spearhead, and more.
The Aspen Ideas Festival (June 27 – July 3, 2011) – Visit Aspen for a conversation-packed explorations of ideas and issues. The Aspen Institute and The Atlantic magazine present the festival to explore ideas, deepen dialogue, and inspire action. Wide array of lectures, debates, presentations, and panels by leading thinkers across a broad spectrum of critical topics.
Aspen Music Festival and School (June 29 – August 21, 2011) – Since 1949, the world's top accomplished and promising musicians visit Aspen for the summer. Music Director David Zinman leads over 750 student musicians and 200 guest artists through a summer of music in Aspen. Visit the Benedict Music Tent for an evening with a famous musician or head to the top of Aspen Mountain for Music on the Mountain.
Four of July Celebration (July 4, 2011) – With over 20,000 residents and visitors honor the nation's birthday, Aspen/Snowmass is the place to be for 4th of July. The day includes a parade through the streets of Aspen, jet flyby, concerts, fireworks, outdoor movies, and more.
Blast the Mass (August 5-7, 2011) – The Mountain States Cup Series comes to Snowmass Village in August for Blast the Mass. Great viewing opportunities for the states top mountain bikers, plus movies, music, and nightlife abound.
Oktoberfest (September 10, 2011) – Willkommen to Snowmass for a Bavarian bazaar of the fall harvest season. Authentic German beers and foods, plus music, dancing, and shopping make this a must attend event at the end of the summer season.
Aspen Ruggerfest (September 15-18, 2011)- World-class rugby tournament set on the famed rugby fields of Aspen. Over 50 teams from around the world vie for the Ruggerfest title. Great viewing and camaraderie.
Snowmass Ballon Festival (September 16-18, 2011) – See Snowmass in a new light at the Ballon Festival. One of the highest-altitude balloon events, highlights include a Saturday evening glow, barbeque, free concert, and kid's zone.
For a complete list of events, please visit our Aspen/Snowmass event calendar. We look forward to welcoming your to Aspen and Snowmass, Colorado this summer.
Stay Aspen Snowmass is the official central reservations for Aspen and Snowmass Village. SAS represents all of the Snowmass and Aspen lodging community including hotels, condos, and homes. We offer one-stop shopping for discounted Snowmass and Aspen vacations including air transportation. Our team of local vacation experts live, work, and play in Aspen and Snowmass. We look forward to planning your summer vacation to the Rocky Mountains.
###