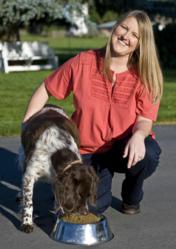 "Dynamite stresses quality control in its natural dog food and natural horse feed."
Meridian, Idaho (Vocus/PRWEB) April 13, 2011
Callie Novak has been named chief executive officer and Jos Zamzow, chief operating officer, of Dynamite Specialty Products. The company makes all-natural dog food, natural horse feed, supplements for dog nutrition and horse nutrition and related products for virtually every members of the animal kingdom.
Both Novak and Zamzow previously were vice presidents of the company, an outgrowth of the livestock feed mill founded by their great-grandparents in 1933. Jim Zamzow, previously CEO and chairman of the board, continues to serve as chairman of the board.
Novak joined Dynamite in 2002 after working as a veterinary technician and stockbroker. She is a graduate of Boise State University.
Jos Zamzow is a master gardener and teacher in the University of Idaho's "Living on the Land" program in Ada and Canyon counties. He joined Dynamite in 1999 after working at Zamzows nurseries. He is a graduate of the University of Arizona.
Dynamite has long focused on horse nutrition and dog nutrition. Its natural dog food, natural horse feed and nutritional supplements are used by owners of prize-winning racehorses and working dogs across the country. Its specialists can recommend exactly what vitamins, minerals and other nutritional supplements best support dogs with arthritis, horses with laminitis, cats whose owners make their own food, and cows with digestive issues. Dynamite has worked with veterinarians and university researchers to produce specialty foods to correct nutritional deficiencies in animals ranging from Canadian muskoxen to peregrine falcons to zoo exotics.
Dynamite uses only natural ingredients, made in the United States for better quality control in its natural horse feed and natural dog food, which also functions as a hypoallergenic dog food. Throughout its history, Dynamite always has looked at alternatives to animal by-products, antibiotics, chemical preservatives, fumigants, artificial coloring and other additives that have later caused health problems.
Its manufacturing processes are so stringently controlled that Dynamite has a separate mill, The Feed Mill on Main Street here, to produce feed for herbivores, such as horses and poultry that are especially sensitive to contamination from meat needed by other species such as dogs and cats. Its Ultimate Dog Food is perhaps the only raw dog food that needs no refrigeration.
Dynamite has more than 4,000 distributors of its natural dog food and natural horse feed across the United States and Canada. Its manufacturing facilities are in Meridian and Nampa, Idaho, and Des Moines and Westside, Iowa.
Additional information is available at DynamiteSpecialty.com or by calling 1-800-697-7434.
###