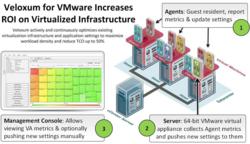 "Truly dynamic 'Leader' companies that are managing their infrastructure with an automated, holistic process and trusted software are gaining the most from their investment in virtualization technologies," Dick Csaplar, Senior Analyst, Aberdeen Research
Scotts Valley, CA (Vocus/PRWEB) April 13, 2011
Veloxum ™ Corporation, a performance management company, today announced that its Active Continuous Optimization (ACO)-based Veloxum for Enterprise product, which provides users with up to 50 percent more capacity and performance per server, demonstrates the recommended practices found in the Aberdeen Group's research report Managing Virtualized Applications: Optimizing Dynamic Infrastructures published April 12, 2011.
Aberdeen's report states that 'active and automatic optimization of the virtualization infrastructure provides significant and measurable operational benefits' and that 'leaders' in the performance of their virtualized infrastructure are twice as likely to utilize such automated software management of their virtualized servers and storage.' According to the report, 'companies who define the metrics they want to manage, collect and analyze that data in real-time, have a pre-defined plan for dealing with foreseeable issues and allow their virtualization management software to automatically make the required changes have a much higher density of applications on their servers and experience significant reductions in application downtime.'
"Truly dynamic 'Leader' companies that are managing their infrastructure with an automated, holistic process and trusted software are gaining the most from their investment in virtualization technologies," said Dick Csaplar, Senior Research Analyst and author of the study. "Veloxum's ACO capability makes them one of the few companies that have everything in place for such forward thinking companies to make this vision a reality today."
Veloxum actively and continuously optimizes server infrastructure, maximizing performance and increasing workload density by as much as 50 percent. Veloxum's VMware solution, Veloxum for Enterprise, enables its users to optimize complex virtual server operating system (OS) settings — allowing enterprises to realize the full potential of their IT infrastructure. This maximizes the efficient use of all server and client components that depend upon OS interaction, including applications, databases, CPU, memory, network and storage.
"Aberdeen's study confirms the importance of the move toward active, continuous optimization by IT leaders who are looking to realize the full potential and cost savings of their virtual infrastructure," said Kevin Cornell, CEO of Veloxum. "Veloxum's physical and virtual enterprise environment optimization application allows these IT leaders a proven methodology to tune their operating system and application settings to fix the capacity and performance issues that can cost companies unforeseen amounts of time and money each year."
Maimonides Medical Center, a New York-based Veloxum client featured in Aberdeen's report, has achieved major efficiency increases and cost reductions using Veloxum for VMware to tune its enterprise servers. Selecting Veloxum for its enterprise-wide server optimization, Maimonides saved more than $200,000 by significantly increasing utilization of its existing VMware servers and eliminating unnecessary purchases of additional servers. As a result, Veloxum is now a standard part of the medical center's virtualization plans.
"We installed Veloxum on a number of servers and found that we got an average of 30 percent more server utilization," said Gabriel Sandu, Senior Director of Technical Services at Maimonides. "Using Veloxum, we saved more than $120,000 on hardware in the first year alone by better using what we already purchased. Veloxum paid for itself in only a few months."
To obtain a complimentary copy of the report, visit: http://bit.ly/AberdeenResearchReport
About Veloxum:
Veloxum's founders started the company with the vision to apply active, continuous optimization to manage complex IT environments for optimum performance and utilization. Veloxum actively and continuously optimizes physical and virtual infrastructure by optimizing operating system and application settings. It leverages the existing systems and infrastructure by tuning the various components within their manufacturer supported settings. The solution enables IT organizations to maximize performance, increase workload density, and minimize virtualization costs, dramatically reducing CAPEX and OPEX spending.
Customers such as Adecco, Baron Funds, Beeline, CGB Group, Deutsche Bank, the United States Department of Energy, Fortress, and ISI Financial, Maimonides, PPC, and The Washington Post are enjoying significant cost savings with Veloxum. Veloxum http://www.veloxum.com, headquartered in Scotts Valley, California, was founded in September, 2007.
Veloxum, iPTE and ACO are registered trademarks and/or trademarks of Veloxum Corporation in the United States and/or other jurisdictions. All other marks and names mentioned herein may be trademarks of their respective companies.
Media Contact:
Jeff Lettes
Global Media Strategy on behalf of Veloxum
jlettes(at)globalmediastrategy(dot)com
twitter: @svnewscomm
http://www.globalmediastrategy.com
###