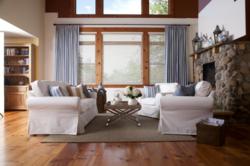 "Seasonally changing decor items like drapery panels, throw pillows and area rugs gives your existing decor a fresh, new lease on life and lets you experiment with accent colors." -- Tracy Christman, vice president Budget Blinds Vendor Alliance.
Orange, Calif. (Vocus/PRWEB) April 14, 2011
As winter is edged out by spring many homeowners are eager to refresh their homes while being mindful of their budgets. The good news is homeowners don't need to break the bank to spruce up the place.
"There are many budget-conscious things homeowners can do to polish the look of their homes," said Tracy Christman, vice president of Budget Blinds Vendor Alliance.
Budget Blinds offers these suggestions to brighten your rooms for spring and summer:

While paint color can change the mood of a room, window coverings can change the way light reacts with that color. Cellular shades, plantation shutters, and blinds can also prevent heat gain, which reduces energy use and costs.
Adding a simple drapery panel to an existing window treatment softens harsh angles, adds a bit of drama and makes a room more inviting.
Professional decorators repeat an accent color three times in a room – once in the lower third of the room, once in the middle third and once in the upper third of the room. We suggest repeating that accent color with a drapery panel, coordinating throw pillows and an area rug.
To save some money when buying a drapery panel, ask your style consultant about stopping the fabric at the floor rather than allowing it to puddle.
Swap your drapery panels and accessories seasonally for décor that always seems new.
You may wish to choose faux wood over real wood. The benefit is faux wood resists warping better than real wood and is an excellent choice for humid rooms like kitchens and baths.
The thing to keep in mind is to wisely invest in your home décor. Emphasize the items' value over how inexpensive the item is.
The cheapest item may not be durable enough to withstand the rigors of your lifestyle, and you'll spend more to replace it than if you'd purchased the better value item.
About BUDGET BLINDS, Inc. and Home Franchise Concepts
Based in Orange, California, Budget Blinds, Inc. was founded in 1992 and currently boasts over 800 franchise territories serving nearly 4,000 cities throughout the United States and Canada. In 2006, the founders of Budget Blinds, Inc. created Home Franchise Concepts to be the parent company to Budget Blinds and its sister concepts. As consumer demand for its quality, convenient services continues to grow, Budget Blinds is on its way to dominating the multi-billion dollar window covering market. Budget Blinds has been recognized as a leader in the franchise industry by organizations such as Entrepreneur, AllBusiness, Inc. and Franchise Business Review. For more information on Budget Blinds please visit http://www.budgetblinds.com or call 1-800-519-6298 or our press room at http://www.budgetblinds.com/pressroom. Get even more news and views from Budget Blinds at http://www.facebook.com/budgetblinds.
# # #