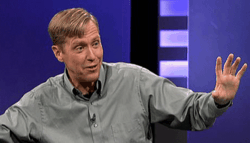 Needham, MA (Vocus/PRWEB) April 13, 2011
Author, entrepreneur, scientist and inventor Jeff Hawkins, the founder of Palm Computing and a leading figure in the handheld device revolution, will address the Class of 2011 at Franklin W. Olin College of Engineering's Commencement ceremony on Sunday, May 15, at 3:00 p.m. on the campus's Great Lawn.
Often credited as the designer who reinvented the handheld market, Hawkins developed many popular computer products including the PalmPilot, Visor and Treo families of handheld computers and communicators. He founded Palm Computing in 1992, and teamed up with Palm colleague Donna Dubinsky to co-found Handspring in 1998. In 2002, he created the Redwood Neuroscience Institute (RNI), a scientific research institute focused on understanding how the human neocortex works. RNI has now become The Redwood Center for Theoretical Neuroscience at UC Berkeley.
In 2004, he co-authored On Intelligence detailing his theory of the neocortex. In 2005, he co-founded Numenta, a startup company whose technology is based on neocortical theories expounded in this book. Hawkins's intends for Numenta to play a catalytic role in the emerging field of machine intelligence.
Hawkins received a bachelor's degree in electrical engineering from Cornell University in 1979 and was elected to the National Academy of Engineering (NAE) in 2003. Hawkins has received numerous awards for both his entrepreneurial skills and engineering successes. Among them was being selected entrepreneur of the year by Cornell in 2000.
Hawkins' connection to Olin College developed through his participation in the Inaugural NAE Grand Challenges Summit (co-sponsored by Olin College) at Duke in March 2009, where he was a keynote speaker on "Reverse Engineering the Brain."
Please visit http://commencement.olin.edu/ for additional details.
###