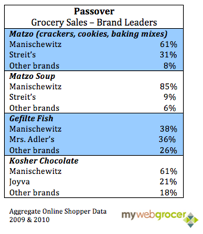 Colchester, VT (Vocus/PRWEB) April 13, 2011
With Passover fast approaching, most grocery stores are featuring a display of foods and products traditionally eaten during the weeklong holiday. When filling the shelves, consumers may want to know which brands lead sales each year and which products are most popular.
MyWebGrocer, the leading provider of online grocery services, examined the sales of traditional Passover foods two weeks prior to Passover in both 2009 and 2010. Categories that saw the most sales included products made with matzo, such as crackers, cookies, baking mixes and soup; Gefilte fish; Kosher chocolate; and pancakes (potato and latke).
The brand leader across all product categories was Manischewitz, with considerable dominance in the matzo and chocolate categories. The second most purchased brand of matzo and matzo soup was Streit's, who sold 31% and 9% respectively. In the category of gefilte fish, Mrs. Adler's sold 36%, closely behind Manischewitz, who sold 38%. Kosher chocolate saw 21% of chocolate sold from the Joyva brand, second to Manischewitz, which sold 61%. For potato and latke pancakes, Manischewitz was the only brand offered.
About MyWebGrocer:
MyWebGrocer drives digital connections between consumers, grocery retailers, and Consumer Packaged Goods brands. MWG creates and manages digital solutions for clients including websites, digital media, online circulars, email marketing initiatives, mobile applications, social media strategies, and customer acquisition programs. MyWebGrocer works with more than 110 retailers nationally, representing more than 10,000 stores, and 90 major consumer packaged goods brands. The data reflected above was collected, in aggregate, from users of MyWebGrocer's digital grocery platform two weeks prior to Passover in 2009 and 2010.
###