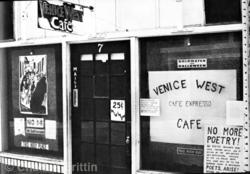 "What has kept me dedicated to doing the project, against all odds, is a realization that these Beat Era individuals were correct in resisting the commercial, mainstream world," said filmmaker Ms. Kerr.
San Francisco, CA (Vocus/PRWEB) April 13, 2011
Producer/Director Mary Kerr, (http://www.beatera.org), has launched a campaign to raise finishing funds for her documentary 'Swinging in the Shadows' through the crowdfunding site IndieGoGo. Ms. Kerr has self-funded the project for over 15 years (with some contributions) and now intends to raise finishing money to see the project to completion. All contributions are tax-deductible. Details about the production as well as many unique rewards for donating can be found at 'Swinging in the Shadows' and Mary Kerr's website.
'Swinging in the Shadows' is the untold story of the California Beat Era depicted in a two-part documentary. The first hour, 'Venice West and the LA Scene' is about what took place in Venice, California and West Los Angeles during the late 50s – mostly insider knowledge until now. It provided the inspiration that rocked the Los Angeles cultural world. The second hour, 'San Francisco's Wild History Groove' focuses on the underground artists and poets who hung out together in the 50s/early 60s. They helped create an energetic renaissance in that city that resonates today.
"What has kept me dedicated to doing the project, against all odds, is a realization that these Beat Era individuals were correct in resisting the commercial, mainstream world," said Ms. Kerr. "Now, a younger generation of artists and poets are struggling with the same dilemma – how to keep the pressure to make money from destroying the freedom to produce what they really want to create regardless of acceptance. At screenings, young artists have told me how inspired they felt to know about the experiences of those individuals in the documentary."
Unique Art Objects Are Offered As Rewards for Contributors
To assist Ms. Kerr in reaching her goal, many artists (or their galleries) have donated some of their work. These include pieces from Frank Lobdell, David Simpson, Saul White, Deborah Remington Lundy Siegrest, and many more. All the donated items can be viewed on Mary Kerr's website.
Backstory
Ms. Kerr moved to San Francisco and fell into the North Beach scene in the 1960's and met these artists and poets. Seeing their work opened a new world for her. Their uncompromising approach to art and creativity influenced and inspired her to document their story now many years later. Today, the work from this underground group has become more recognized and valuable – the deserved outcome of maintaining a committed aesthetic.
Straight From The Source
Over the past 15 years, Ms. Kerr shot interviews and used portions of the work of many Beat Era poets and artists who were integral to the scene, some of who are no longer with us. They include artist Bob Branaman, photographer Charles Brittin, artist Roy De Forest, poets Jack & Adelle Foley, artist Dimitri Grachis, artist Wally Hedrick, poet/filmmaker Philomene Long, writer/poet Ron Loewinsohn, artist Joann Low, poet William Margolis, poet/writer David Meltzer, artist Deborah Remington, poet/artist Frank Rios, poet/writer Aya Rose (Tarlow), poet/artist, Tony Scibella, artist David Simpson, poet/writer John Thomas, poet ruth weiss, and artist poet Saul White. The poetry of the late poet/artist Stuart Perkoff is used throughout 'Venice West and the LA Scene.'
About Mary Kerr and CA Palm
Mary Kerr has been producing and directing documentaries on the California Beat Era for over 15 years. Her first film, The Beach, was released in 1995. It was shown on PBS and The University of California Extension Center for Media and Independent Learning (Berkeley) distributed it to educational institutions throughout the world, including the San Francisco Library History Room, the Archives of American Art at the Smithsonian and the Beat Museum in San Francisco.
Her production company, CA Palm, is an educational 502c3 non-profit corporation. All contributions to Swinging in the Shadows are tax deductible.
For more details, visit BeatEra.org.
Media Contact:
Frank Colin
contact (at) beatera.com
###