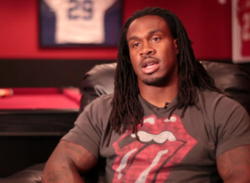 "I wanted to give fans of the NFL a chance to see what a week of a season is really like." -- Steven Jackson, NFL Pro Bowl running back
Los Angeles, CA (PRWEB) April 13, 2011
Pro Bowl running back Steven Jackson has dominated opposing defenses during his stellar NFL career. Now he's taking on ESPN, the Los Angeles Times, Major League Baseball and the Onion for a shot at online glory.
"A Week in the Life With Steven Jackson," a three-part web series (http://aweek.sj39.com), earned one of five coveted nominations for Best Online Sports Video of the 2011 Webby Awards. It is the latest honor for "A Week in the Life," which has been featured everywhere from ESPN First Take to the Wall Street Journal.
"I'm excited to be nominated," said Jackson, one of the series' executive producers. "But now that we're one of the finalists, I want to win."
"It's a testament to Steven and the rest of our team, and to the tremendous amount of work that went into this project," said David Neiman, president of Athlete Interactive (http://www.athleteinteractive.com) and co-executive producer. "To see who we've been nominated with -- we couldn't be more proud."
Filmed during Week 11 of the current NFL season, "A Week in the Life" showcases Jackson on and off the field from one Sunday to the next, chronicling how he and the Rams recover from a heartbreaking loss to the San Francisco 49ers, and prepare for a showdown with the NFC leading Atlanta Falcons. The three episodes – titled "Recovery," "Reunion" and "Gameday" -- provide an intimate look into the life of one of the NFL's premier players in the midst of a season, showing never before seen details about Jackson's recovery and rehabilitation, his relationships with teammates and coaches, moments with family, and more.
"I wanted to give fans of the NFL a chance to see what a week of a season is really like," said Jackson. "It's a story no one's ever told, and I wanted to be the one to tell it."
"Steven and the Rams gave us unprecedented access," said Neiman. "The result is one of the most intimate, personal looks into NFL life ever shown before."
To vote for "A Week in the Life," fans simply need to:
+ Go to the Webby Awards site, http://www.webbyawards.com
+ Sign in with Facebook or Twitter
+ Go to Best Online Sports Video (http://bit.ly/fzBiQQ) and select "A Week in the Life"
"A Week in the Life With Steven Jackson" is a co-production of Shock N Awe and Athlete Interactive. (Total running time: 32 minutes.)
ABOUT STEVEN JACKSON
Steven Jackson, a three-time Pro Bowl selection for the NFL's St. Louis Rams, is one of the greatest running backs of his generation. Since the beginning of the 2005 season, Jackson has led the NFC in rushing yards (7,230) and yards from scrimmage (9,672). He has rushed for over 1,000 yards for six consecutive seasons -- a feat achieved only 11 other times in NFL history. Earlier this year, Jackson passed Hall of Fame running back Eric Dickerson to become the Rams' all-time leading rusher. This is Jackson's first Webby Awards nomination. He was a Webby Awards honoree in 2009 for his web site, http://www.sj39.com.
ABOUT ATHLETE INTERACTIVE
Athlete Interactive (http://www.athleteinteractive.com) is the premier digital branding agency for professional sports. Through the strategic and ongoing application of branding, design, web site development, social media, content creation and analytics, Athlete Interactive helps its clients build their brands, and maximize short and long-term financial opportunities. In addition to Steven Jackson, athlete clients include the NBA's Paul Pierce, Derek Fisher, Jason Kidd, Lamar Odom, and many others.
CONTACT INFORMATION
Steve Caric, Caric Sports Management, (949) 735-2222
David Neiman, Athlete Interactive, (213) 280 9388
###