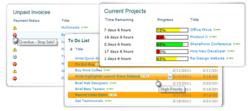 The product went through rigorous usability testing and this threw up a number of suggestions which we fell have added a lot to the overall product offering.
Cheltenham, England (PRWEB) April 15, 2011
SharePoint specialists Pentalogic Technology are delighted to announce the release of the public beta of SharePoint Highlighter, the latest in their suite of end-user tools for Microsoft SharePoint.
Highlighter is a custom column for Microsoft SharePoint which can be used to add highlighting, color coding, icons, progress bars, countdowns, dynamic highlighting and more to SharePoint lists. Pentalogic believe it is the only product on the market which offers this range of highlighting and mark up options for SharePoint in one easy to use package.
"SharePoint Highlighter has come on a good deal in the past couple of weeks since we announced its imminent release." explains Pentalogic CTO and founder Ryan Wheeler. "The product went thought rigorous usability testing and this threw up a number of suggestions which we feel have added a lot to the overall product offering."
"By looking at how users actually worked with Highlighter we have been able to apply the 80/20 rule to the user interface. We have been able to recognise the tasks and scenarios where the vast majority of people will be using the tool for most of the time, and make these very simple to achieve, whilst still leaving the huge power and flexibility of Highlighter only a click away for the more advanced user." says Wheeler.
"In fact basic operations in Highlighter are now so simple to perform with our "Auto" interface, that the average user will be able to enhance their lists in less than 30 seconds, from "ribbon" to "OK". Given the huge range of options available within Highlighter this is an achievement that our development team can be justly proud of."
SharePoint Highlighter is now available in public beta and Pentalogic are inviting SharePoint aficionado's to take part in the trial.
"The public beta is a crucial stage of the product development process for us." says Wheeler "It's where our assumptions about how the product is going to get used are challenged by our potential customer base: where we really find out whether we got it right – or not."
"Beta testing is not for the faint hearted though." Says Wheeler "There are lots of SharePoint enthusiasts out there and although many love being the first to try new SharePoint tools potential testers need to be aware that the product is still in development and so there may still be bugs. We would never recommend that a beta is installed in a SharePoint production environment – test or development servers should always be used."
"Things move fast during beta testing so beta testers also need to have some time available to play with the software." Wheeler explained "We look to testers to give us lots of feedback and anyone who doesn't have time to do this within a week or so of downloading the software is probably going to miss out."
"We realize that the people who get involved at this stage are a real asset to us, giving up their time to help improve our product, so we always offer beta testers a discount on the product at launch - as well as the fun of getting involved in something new."
Pentalogic SharePoint Highlighter beta version is now available to download from the Pentalogic website and it is anticipated that the release candidate will be available in early May.
About Pentalogic Technology
Pentalogic Technology is a privately owned and managed company based in Cheltenham England. Pentalogic build software for use with Microsoft SharePoint. Pentalogic's products are designed to enable SharePoint users to build rich applications in SharePoint, without the need for assistance from developers.
Founded in 2005 Pentalogic are one of the longest established companies in their marketplace. Pentalogic's developers have worked with SharePoint since its very earliest days.
Pentalogic's simple but powerful SharePoint tools are used by organizations around the world to enhance the functionality of SharePoint.
###