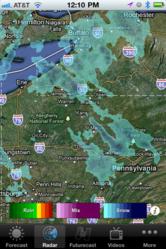 This application is truly an extension of his expertise and provides iPhone and iPad users with the richest possible experience, right down to street level maps and forecasts
Madison, WI and Raleigh, N.C. (Vocus/PRWEB) April 13, 2011
Weather Central and News Over Wireless (NOW) have combined their expertise in interactive weather content and mobile application development to create WeatherNOW™--a new local weather application for media companies to offer iPhone and iPad users. The new application offers an excellent, hyper-local experience by combining the ultra-rich content of Weather Central with the local knowledge and expertise of local TV station meteorologists and the media company's unique brand identity. WRAL-TV is the first media company to make the app available to its viewership.
The app is on display this week at NAB 2011 on booth SU7502 at the Las Vegas Convention Center.
The app, available from both NOW or Weather Central, is delivered fully configured to reflect the media company's content and logos. Once a media company launches its app through the iTunes App Store, the weather data delivered by Weather Central updates with no effort on the part of the media company.
NOW developed the app to take full advantage of the interactive content offered by Weather Central. Features include:

User customizable city forecasts
Location-based Interactive Radar and mapping from Weather Central
Weather Central's location-based Interactive Futurecast™ and mapping that delivers seven layers of weather information
Integrated station-specific content such as station video forecasts, radar, and weather-related school and business closings to provide a personal, localized user experience based
Forecast pages feature unique backgrounds that are customized graphics based on time of day and actual current conditions
Users can navigate the interactive and location features to see exactly where they are related to weather systems and can view a nationwide map or zoom down to street level. At the same time they can switch between views of radar, satellite, temperature, wind, and rainfall, snow or ice accumulation.
WRAL-TV is the first station to launch the application, which it has branded as the "O-Fishel Weather app," named for long-time Chief Meteorologist, Greg Fishel. The WRAL O-Fishel Weather app has ten content categories including forecast, location based maps, video, Dual-Doppler, weather alerts and storm tracker. Users can download the app from their iPhone, iPod Touch or iPad by searching on "WRAL Weather" in iTunes or by visiting: http://itunes.apple.com/app/wral-weather/id428539534?mt=8
"We pride ourselves on offering the best and most in-depth weather coverage possible for our viewers and visitors," said John Clark, general manager of WRAL.com, which worked with NOW to design the app's functionality. "Greg has been serving the market at WRAL for almost 30 years and has an unparalleled understanding of weather, especially in the Raleigh-Durham area. This application is truly an extension of his expertise and provides iPhone and iPad users with the richest possible experience, right down to street level maps and forecasts."
"This application goes well beyond any other local weather offering available today," said Sam Matheny, NOW general manager. "It provides a robust user experience based on dynamic weather information and local expertise, and it runs natively on the best-selling tablet and smartphone on the market. We know how important weather is to our stations and their viewers and developing this application with Weather Central continues our tradition of providing the best-in-class applications that are both useful and profitable for our station partners."
"As viewers turn to mobile devices for important information, media companies have an opportunity to develop more direct, one-to-one relationships with their audience," said Terry Casey, Weather Central's vice president for interactive. "The new WeatherNOW app developed by Weather Central and NOW enables media companies to extend their trusted brands to audiences on these platforms and provide a very personal experience full of rich, locally relevant weather information."
About Weather Central, LP
Weather Central, LP, founded in 1974 by broadcasters and meteorologists based in Madison, Wisconsin, is the leading provider of professional on‐air, online, print, mobile and enterprise weather solutions and forecasting in North America and to major customers worldwide. Utilizing the Company's dynamic weather graphics, precise forecast models and data, and patented technology, more than 1000 partners and hundreds of millions of consumers worldwide benefit from Weather Central's attention to weather presentation, detail and insight.
About News Over Wireless and Capitol Broadcasting Company
NOW was the first company to launch a local TV iPhone App in December 2008, and iPad apps in 2010. All of the applications include local advertising sold by the stations and national advertising supported by NOW's proprietary ad router and network of ad partners. NOW traffics all local and national ads for its station partners.
The company currently partners with over 155 local and national media companies providing custom iPhone Apps, Android Apps, mobile web sites, SMS marketing, carrier-supported applications and video channels, and OTT TV Widgets. These solutions create additional revenue streams for partners and reach millions of users.
News Over Wireless is part of CBC New Media Group, LLC, a division of Capitol Broadcasting Company. News Over Wireless works with broadcasters and wireless phone carriers to provide news and information on mobile phones through video channels, downloadable applications and mobile web sites. For more information, visit http://www.newsoverwireless.com.
Capitol Broadcasting Company, Inc. is a diversified communications company which owns and/or operates WRAL-TV, WRAL Digital, WRAL-FM, WRAL-HD2, WCMC-FM, WDNC-AM, WCLY-AM, Microspace, CBC New Media Group and Wolfpack Sports Marketing in Raleigh, NC; WJZY-TV and WMYT-TV in Charlotte, NC; WILM-TV and Sunrise Broadcasting in Wilmington, NC; WRAZ-TV and The Durham Bulls in Durham, NC; and real estate interests including the American Tobacco Project and Diamond View office buildings in Durham, NC.
About WRAL-TV
WRAL-TV, a CBS affiliate, is known for being a pioneer and innovator. It was the first commercial station to broadcast in high definition and has been a leader in mobile digital TV. It also was one of the first commercial stations to launch a website. WRAL-TV also has reputation for news excellence and having the market's top-rated newscasts. For more information, visit http://www.wral.com/wral-tv/.
###