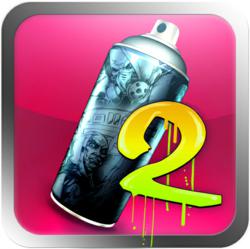 At Elite Gudz, we're not just technical developers, we're artists ourselves. We know and understand this industry and want fans to have an outlet to create their own artwork
New York City, NY (Vocus/PRWEB) April 13, 2011
Elite Gudz, creative leaders in designing content for multi-media mobile, tablet and personal-use consoles, is excited to announce the upcominglaunch campaign and upgrade program of its hugely popular Graffiti Spray Can application. Originally launched in 2010, the Graffiti Spray Can application has amassed over four million total downloads. With the launch of Graffiti Spray Can 2, the company hopes to create an even larger fan base of digital vandals. With numerous upgrades, brand-new features and more package add-ons available than ever before, Graffiti Spray Can 2 is sure to be just as successful as the original when it officially launches on May 24, 2011.
"Our original Graffiti Spray Can App was hugely popular with fans and with our new upgrades and features, users will be able to create more distinctive and personalized artwork of their own," said Brian Ferrara, Creative Director for Elite Gudz. "As a company, we have fun designing, developing and testing our applications, so we know our fans will enjoy them as well. At Elite Gudz, we're not just technical developers, we're artists ourselves. We know and understand this industry and want fans to have an outlet to create their own artwork."
Graffiti Spray Can 2 will feature a variety of upgrades, including a new music player, new background choices and more creative graffiti options. The music player will allow users listen to and manage Graffiti Spray Can 2 exclusive material, including the new single "We Bomb", produced by PoeRilla and Beat Butcha, featuring graffiti industry renowned artist Phetus. With more colors, paint options and artistic features than ever before, users can create their own graffiti world where the only limit is their imagination. Some of the new features include an eraser to "un-do" an action and new cap options, including the drips cap, allowing your paint to drip and run, just like real paint would.
After creating a graffiti masterpiece, users can share their artwork within their social worlds by posting it to Facebook, sharing it over Twitter, emailing it to friends or by saving it to a personal photo album. In addition, users can also post their artwork to the Graffiti Spray Can 2 "Wall of Immortalz", a new feature of the application that allows users to share their artwork with other Graffiti Spray Can 2 users where they can view, rate and share. Another add-on application will feature artist packs – a downloadable feature showcasing some of the world's best street and graffiti artists'own personal fonts, backgrounds, stencils and music.
For graffiti enthusiasts and serious fans of the Graffiti Spray Can brand, a limited number of separate "Phetus Exclusives" packages will be available and will include Graffiti Spray Can inspired merchandise. All designed by Phetus, this select package will include a large-scale metal stencil, t-shirt and vinyl iPad cover skin. This exclusive package is limited to the sale of only 88 units and orders can be placed on May 24, 2011, on a first come, first serve basis. The new single, "We Bomb", will be available digitally on both iTunes Music Store and Amazon Music and also as a special edition picture disc vinyl. The "Phetus Exclusives" package and vinyl will be available at http://www.PhetusExclusives.com.
The hugely popular original Graffiti Spray Can application is currently available at the iTunes store.Graffiti Spray Can 2 will be available on iPhone, iPod touch, iPad, Android and Facebook.The new Graffiti Spray Can 2 application isnow available for free on iPad and will update on May 24th to include all upgraded features, including the artist packs, store and music exclusives. The application will be available for free on Facebook and Android. The application download will cost $.99 on iPhone and iPod Touch and will include the Phetus artist pack. For more information, visit http://www.graffitispraycan.com.
ABOUT ELITE GUDZ
Elite Gudz is a creative studio founded by artists and creators from the worlds of graffiti, comics, designer toys and technology. Their first mobile application, Graffiti Spray Can, climbed to the #1 spot in Entertainment and Free Applications charts around the world within days of its release. Elite Gudz has since become leaders in designing creative content for mobile, tablet and consoles with designer platform production and new media for mass markets. For more information, please visit http://www.elitegudz.com.
For media information, please contact Lauren Williams, DRIVEN Public Relations, 951-719-1040 or press(at)elitegudz(dot)com.
###