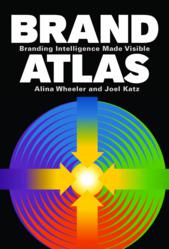 Hoboken, NJ (Vocus/PRWEB) April 14, 2011
Wiley, branding consultant Alina Wheeler, and information designer Joel Katz are pleased to announce the release of their new book Brand Atlas: Branding Intelligence Made Visible (Wiley; April 2011; $29.95; Hardcover and e-Book; ISBN: 9780470433423).
Brand Atlas, is a resource for multi-tasking professionals who need to stay focused on building their brand during a time of relentless change, dwindling resources and fierce competition. Brand Atlas is just that, an atlas that is a fast-paced and concise guide through marketplace trends, branding tools and rules. This book focuses the reader on the most pressing brand topics and actions for CEO's and brand managers. Alina Wheeler demystifies branding and explains complex ideas and terms that everyone uses but no one really understands. Joel Katz has created clear, engaging diagrams to explain branding principles.
Brand Atlas is the only branding resource that reinvents the paradigm of a business book. With 55 full color diagrams, Brand Atlas follows the recent YouTube-iPhone-Pecha Kucha-era trend by combining streamlined content with vivid, full-color information graphics. This handy reference neglects needless jargon and quotes a broad range of stakeholders in the branding process—from CEOs and brand visionaries to thought leaders and experts. Brand Atlas provides the tools to brand throughout the entire customer experience, build relationships based on brand, measure a brand's value, and define a brand strategy.
Marty Neumeier, Director of Transformation, at Liquid Agency and author of Brand Gap said, "Brand Atlas is a delightful book on a number of levels-as a primer, a spark generator, and a map of brand principles. It's fun to crack it open anywhere, like a fortune, for quick inspiration."
Brand Atlas is a compact, no-nonsense guide that shows how staying focused on the big picture is crucial to building brand assets. http://www.brandatlas.info
About the Authors
Alina Wheeler is a branding consultant and author of Designing Brand Identity: (Wiley), the bestselling global resource for businesses and nonprofits. Her business is managing perception; her service is strategic imagination; and her passion is brand. She was advisory council member for The Dictionary of Brand, edited by Marty Neumeier, along with Seth Godin, Al Ries, and Tom Kelley.
Joel Katz is an information designer and a global authority on the visualization of complex information. He lectures internationally and is a Fellow of the American Academy in Rome (2003). A graduate of Yale College and the Yale School of Art in graphic design, he teaches information design at The University of the Arts and Philadelphia University.
###