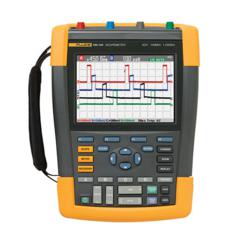 Vernon Hills, IL (PRWEB) April 13, 2011
First of its kind! The Fluke® 190 Series II Digital Handheld Oscilloscopes are the premier four-channel portable scopes on the market with CAT III 1000 V/CAT IV 600 V rating. Designed for challenging environments, the instruments are rugged, IP51-rated dustproof and drip-proof, and also shockproof. Because of their resiliency, they are especially geared for the process control, automation, electrical equipment, medical imaging, avionics, and A/V and security systems industries.
With these innovative scopes, engineers and technicians can safely and easily troubleshoot three-phase systems such as variable-speed drives, UPS systems, and backup generators. They can measure input, output, and feedback signals simultaneously to diagnose industrial electronics.
The oscilloscopes are compact, portable, and weigh only 4.8 lbs. They contain four independent isolated inputs up to 1000 V, with high-speed sampling up to 2.5 GS/s. Their memory is deep, holding 10,000 points per trace waveform capture. With a new, high-performance, swappable Li-ion battery, the scopes enjoy the longest battery life available―up to seven hours. Optional FlukeView® ScopeMeter® software documents and transfers waveforms and screens to a PC for printing or importing.
Choose from 200 MHz or 100 MHz models, with optional accessories and kits. To find out more, call 800-358-5525 or visit davis.com/8470.
Davis Instruments has been one of the world's leading sources of test, measurement, control, and calibration instruments since 1912. With expanding capabilities in industrial spheres such as power and utilities, petrochemicals, aerospace and electronics production, field services, and construction, the organization continues to respond to technological demands. Based in Vernon Hills, Illinois, Davis Instruments is dedicated to providing customers with excellent service and product applications expertise. For more information, contact Davis Instruments, 625 East Bunker Court, Vernon Hills, IL 60061. In the U.S.A. or Canada, call 800-358-5525. International customers, call 847-327-2000. Visit us at http://www.davis.com.
###