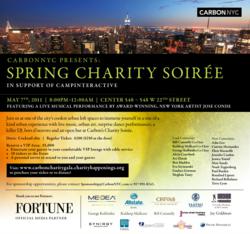 New York City, NY (Vocus/PRWEB) April 13, 2011
Carbon NYC will host 500 guests at its second annual Charity Event on May 7th at Center 548 (548 West 22nd Street, NYC). The event will be an immersion into urban art, dance, and a live musical performance by award winning New York artist, Jose Conde, in support of a New York based non-profit organization, CampInteractive. The fundraiser will serve a dual purpose; to raise funds for CampInteractive and to celebrate the charity's 10 year anniversary. In 2010, Carbon supported charity: water through their Charity Gala and has since made a commitment to spearhead at least one major philanthropic initiative annually. This event is open to the public and individuals can purchase tickets for $200 or VIP sections for $5,000 each at http://www.carboncharitygala.charityhappenings.org.
Tanteo® Tequila is an ultra-premium collection of flavor-infused 100% Blue Weber Agave Blanco tequilas -Jalapeño, Tropical and Cocoa. Each tequila is infused by hand in a proprietary process using fresh, all-natural ingredients, with jalapeño providing a base note throughout. Staying true to the spirit's traditions, Tanteo is distilled, infused and bottled in the historic mountain town of Tequila, Mexico and is produced using local, estate-grown agave. Meticulous care and attention is given to the selection of the agave and the quality of the flavor ingredients. The result is an award winning fresh, delicious and balanced product that redefines tequila. The bottle is a blend of classic heritage and contemporary design made from artisan Mexican glass, with a natural wood and cork closure. It features embossed rings for comfortable ergonomic grip, balanced weight distribution for ease of pouring and a square, heavy V-shaped base that supports chilling. Tanteo was launched in January 2009 by Tanteo Spirits Company in New York City at a price point of $42.99 for a 750ml.
Carbon has welcomed a number of partners for this event including Tanteo® Tequila a as the Official Tequila Partner. Other partners include FORTUNE Magazine, MEDEA Vodka, Chivas Regal, Allstate, Jersey Street Furniture Rentals, George Kollitides, Kuldeep Malkani, Bill Connolly, Jay Goldman, Synergy Productions, CIGNA, Charity Lives, Little Cupcake Bakeshop, and Urban Rebounding.
CampInteractive is a New York based, non-profit organization that empowers inner-city youth through the inspiration of the outdoors and the creative power of technology. They believe that when urban teenagers step back into nature and forward into technology they gain invaluable skills, heighten their academic standing, and begin to realize more of life's possibilities. The goals of the organization are to provide NYC's inner-city youth with technology training, giving participants a creative outlet. The organization provides environmental education to connect city kids to the natural world and the environmental issues facing their generation, as well as a safe space to learn, grow, and build personal goals for the future. In September of 2006, a year-round program began with the opening of the Center as a base. CI now actively engages youth throughout the year with academic tutoring, monthly outdoor trips, and technology workshops. To learn more, visit http://www.campinteractive.org.
Carbon is a New York based invitation-only social network of international business leaders. Criteria for Membership are outstanding professional achievement and a demonstrated passion for non-work related pursuits, including the arts, philanthropy, technology, sports and leisure. The foundation of Carbon Membership is integrity and a commitment to actively participate in events and support other members professionally and personally. Carbon events give Members unique access to the best that New York City has to offer, while fostering personal and business relationships.
For inquiries, please contact:
Info(at)CarbonNYC(dot)com
Tel: 917-991-8243
###