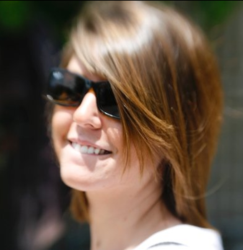 "I'm super excited for this opportunity, and with such a great team, I expect to see big things happen here in the future."
St. Louis, MO (Vocus/PRWEB) April 13, 2011
The Net Impact is proud to announce the addition of Liz Maritz to their internal marketing team.
Liz joins the team to assist in the global marketing efforts for The Net Impact. A graduate of the Missouri School of Journalism at the University of Missouri in Columbia, she has a Master of Arts degree in journalism and wrote her thesis on Interactive Sonic Branding.
"Working at Unidev and The Net Impact will allow me to gain even more knowledge of web marketing and development while assisting with the rapid growth currently taking place in the company. I'm super excited for this opportunity, and with such a great team, I expect to see big things happening here in the future." said Maritz.
Beginning her professional career at Adamson (now Barkley), Liz brings years of experience as a sales representative, copywriter, graphic designer, interactive strategist and account executive.
"We are ecstatic about the addition of Liz to our team. She brings outstanding experience with her; we're really looking forward to her putting her personal touch on TNI's brand as we rapidly grow." Steve Thomas, President of The Net Impact.
To learn more about Liz Maritz visit her on:
LinkedIn: http://www.linkedin.com/in/lizmaritz
Facebook: http://www.facebook.com/liz.maritz
OR her barbershop quartet's website: http://www.zymzyquartet.com
About The Net Impact®
The Net Impact, an Internet marketing and web development and design firm, is a division of Unidev®. Since 1997, The Net Impact has been a web development leader empowering clients with highly creative search engine friendly websites. Professional services encompass search engine and Internet marketing solutions, Internet strategy development, training and seminars and web design. For more information on The Net Impact, please visit http://www.thenetimpact.com, or call (636) -787-7800.
###