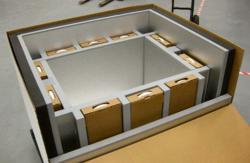 We designed the RePak120CRT™ model because of an increase in the demand for controlled room temperature (CRT) insulated pallet containers
Edison, NJ (Vocus/PRWEB) April 13, 2011
Cryopak, leader in temperature controlled products, has released RePak120CRT™ insulated pallet shipping container.
"We designed the RePak120CRT™ model because of an increase in the demand for controlled room temperature (CRT) insulated pallet containers," Anthony Alleva, Technical Services Manager, at Cryopak said. "These shippers are ideally suited for shipping cold chain shipments such as pharmaceuticals, blood products, tissues, live animals and plants that must remain in the 20°C to 30°C range."
RePak120CRT™ insulated pallet shipping containers are constructed to offer superior thermal performance that is light weight, easy to use and supports even the heaviest payloads. These containers are tested against robust summer and winter profiles, are designed to maintain 15°- 25°C for up to 120 hours.
Other features and benefits of the RePak120CRT™ include:

Lightweight insulated panels offer superior performance to traditional polyurethane as well as easy assembly - only 1 person needed!
Re-usable or single use capability; comes with std wood pallet or tough re-usable plastic pallet (shown);
Other options include corrugated outer covering; re-usable plastic outer covering;
Designed with Re-usable Phase 22™ HDPE refrigerant packs. Pre-conditioned at room temperature.
Cryopak also has a series of 2°-8°C pallet shippers ranging from the RePak120™, which holds its temperature range for up to 120 hours to a RePak24™, which will hold its temperature range for up to 24 hours. Cryopak's RePak series of pallet shippers are all pre-qualified to ensure product integrity is maintained through temperature consistencies.
"The idea behind the RePak120CRT™ is to eventually finish the series by introducing a RePak96CRT™, RePak72CRT™ and a RePak24CRT™, giving customers more flexibility on temperature ranges and transit times during cold chain distribution," Bill Hingle, Director of Marketing, at Cryopak said.
About The TCP Family of Companies
The TCP Family of Companies is a complete packaging integrity solutions provider servicing life science industries. The TCP Family consists of Cryopak, the leading manufacturer of cold chain related products and DDL, the leader in package, product and material testing validation for the medical device and biopharmaceutical industries. The TCP family handles your packaging projects with one paramount goal: help get your product to market faster while maintaining the integrity of your products.
# # #