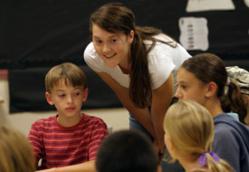 Newberg, Ore. (Vocus/PRWEB) April 14, 2011
Oregon educators seeking to extend themselves into teacher-leader roles in their school district are encouraged to apply for a new education degree program, the Educational Specialist (EdS) degree, now offered through George Fox University's School of Education.
The degree is terminal beyond a master's degree but is distinct from a doctorate in that it is more of a practitioner's degree, emphasizing the application of research and the improvement of educational practices and outcomes. It is ideal for those master's degree-educated teachers and school administrators who want to be successful servant leaders who create collaborative learning organizations.
Beginning in 2012, those seeking national board teacher certification who want to specialize in online teaching will have an opportunity to do so through the EdS.
The 32-credit-hour program includes a 14-hour core curriculum and an 18-hour specialty strand for the purpose of earning Oregon licensure or endorsements, while qualifying for financial aid. The program is designed to be completed in two to three years.
"The program should be attractive to MAT-prepared in-service educators, who now make up about 80 percent of the pre-service teachers leaving Oregon teacher educator programs and entering the PK-12 educational work force," said Scot Headley, chair of George Fox's Educational Foundations and Leadership department through which the degree is offered.
The department plans to begin the program this fall and has opened the application process. To apply or learn more, contact admissions counselor Kristie DeHaven at 503-554-2266, or visit the School of Education's website at soe.georgefox.edu.
While the EdS degree program is widely accepted and offered by universities in a number of other states, it is virtually unknown in Oregon, Headley said. In fact, the only two EdS programs in Oregon are in school psychology at George Fox University and at Lewis and Clark College.
The program currently offers two specialty strands: Instructional Leadership and Administrative Leadership. A third strand, Collaborative Leadership, will be added next year.
The Instructional Leadership strand is designed to meet the needs of instructional coaches, mentors and others in teacher leadership roles. It also provides endorsement opportunities in reading, ESOL and library media, and offers concentrations in curriculum and instruction, online education and secondary content areas.
Those who take the Administrative Leadership strand will earn the Initial Administrative License and begin work on the Continuing Administrative License in Oregon. There is also the option of taking an 11 extra hours to earn an EdS Plus Administrative Leadership, which provides students with their Continuing Administrative License along with the initial license and the EdS degree.
Finally, the Collaborative Leadership strand is for those who aspire to quasi-administrative leadership roles that do not typically require an administrative license: athletic and activity directors, business and HR professionals and department chairs, to name a few. This degree combines course work in the student's area of specialization with study of the larger school and/or district context and mission.
All three strands are grounded in an ethos of servant leadership and structured to foster the development of effective, collegial learning communities and collaborative, distributed leadership for the common good, Headley said.
George Fox University is ranked by Forbes as the top Christian college in the Pacific Northwest and among the top three Christian colleges in the country. George Fox is the only Christian university in the Pacific Northwest classified by U.S. News & World Report as a first tier national university. More than 3,400 students attend classes on the university's campus in Newberg, Ore., and at teaching centers in Portland, Salem, and Redmond, Ore., and Boise, Idaho. George Fox offers bachelor's degrees in more than 40 majors, degree-completion programs for working adults, five seminary degrees, and 11 master's and doctoral degrees.
Contact:
Kristie DeHaven
Admissions Counselor, EdS Program
503-554-2266
###