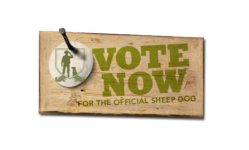 Manchester, NH (Vocus/PRWEB) April 14, 2011
The International Design Guild is excited to announce a new addition to their exclusive Dabbieri Collection - Just Shorn branded wool flooring. These natural carpets and area rugs are made with the finest Just Shorn wool from New Zealand. The Just Shorn label provides assurance that the wool meets the highest standards of sustainability, style and durability.
Part of what makes these rugs and carpets so special is the connection to the farms where the wool originates. Just Shorn farmers are committed to sustainability and the fair treatment of their animals. Operating a free-range sheep farm on the wide open – often rugged – landscapes of New Zealand would not be possible without the help of some very talented, four-legged workers. A New Zealand farmer's sheep dogs play a vital role in the daily operation of the farm.
During the months of April, May, and June, the International Design Guild is sponsoring a search for the Official Sheep Dog of Just Shorn. Each vote will also serve as an entry into a sweepstakes to win a room of Just Shorn wool carpet from the Dabbieri Collection's new line valued at up to $2500.00. Voting will take place at JustShorn.com/sheepdog.
To learn more about Just Shorn wool, its natural beauty, sustainability and to meet some of the farmers, please visit the website at JustShorn.com. Just Shorn and the Dabbieri collection can also be found on Facebook at Facebook.com/JustShorn and Facebook.com/DabbieriCollection. Connect with them for updates on the race for the Official Sheep Dog.
###