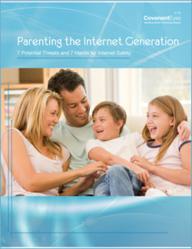 Owosso, MI (PRWEB) April 15, 2011
Even good kids can be sneaky. For instance, according to a 2011 Microsoft poll, 67% of children admit to clearing their browser history and cache to hide their online activity from others.
Meanwhile, most parents are either unaware or feel so pressured by time that they just can't keep pace with how the Internet is being used in their home, said Sam Black of Covenant Eyes Internet Accountability and Filtering.
Save time and effort by using this simple tips sheet from Covenant Eyes to protect your family and make you a better parent of the Internet Generation.

Limit the amount of time and the times of day the Internet may be used. When kids are limited they use their time online more wisely. They are less likely to waste time searching out of boredom or surf the Web late at night, both of which can lead to inappropriate browsing. Avoid charts or timers as they often lead to arguments. Use a filter to set time limits, so that kids have a consistent understanding of when they can be online.
Using effective software like Covenant Eyes allows you to monitor how the Internet is used in your home. And don't hide it. Recent advances by Covenant Eyes provide reports that rate web pages, such as T for Teen and M for Mature, similar to how movies and video games are rated. Use the reports to learn about your kids' interests, curiosity, and their surfing habits.
Talk to your kids. Use weekly Internet use reports to strike up good conversations. The aim is to manage small issues before they become big problems. Parents have the biggest influence on their kids' behaviors, more than their friends, school, or religious institution. Put that influence to use. Set aside times to talk to your kids, but also be prepared to talk to your child or teen on the fly when opportunities present themselves. Talking isn't preaching. Be willing to listen, too.
Filters are helpful in blocking inappropriate content, but choose wisely. Some filters over block or they don't block sites called anonymizers, which are one of the most common ways teens defeat filters. Covenant Eyes has a patent pending on blocking anonymizer sites. Plus, parents can use the rating system to decide the sensitivity of the Covenant Eyes Filter for every member of their family. That allows families to choose what sites can be visited based on the specific age of the child or adult using the Internet.
Do the basics. Keep computers in an open room. Don't provide Internet access or Internet accessible devices in a child or teen's bedroom. Use parental controls, and if a device doesn't provide or allow parental controls to be downloaded, don't buy it for them. Covenant Eyes provides monitoring software for iPhone, iPod Touch, and the iPad, and a growing number of handheld devices and cell phones.
To learn more, download your free copy of Parenting the Internet Generation.
# # #