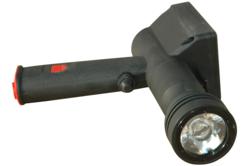 In the industrial sector, we have had a lot of demand for a high powered 365nm UV rechargeable handheld light for inspection and testing and this new handheld UV LED spotlight is our response.
Kemp, Texas (Vocus/PRWEB) April 14, 2011
The Magnalight RL-8510W-1-UV365 ultraviolet spotlight by Larson Electronics produces ultraviolet light in the 365Nm range. This handheld spotlight's pistol grip shape and textured nylon handle is designed to provide good control and no slip handling regardless of environmental conditions, allowing users to operate this LED spotlight in wet or damp areas without worrying about dropping it. Weighing only 14 ounces, this unit is constructed with a machined aluminum lamp assembly that is anodized for resistance against oxidation and a high impact nylon handle that resists damage from impacts and shocks, making it well suited for use in military and outdoor applications. Compact lithium ion batteries provide a long 16 hour runtime on a single 2 hour charge and allow flexible short or long period charging without the need for complex or inconvenient charging procedures. This UV spotlight contains a single UV LED light emitter producing ultraviolet light in the 365 NM range and is fully potted within the machined aluminum lamp housing. The UV LED is further protected by a thick Lexan lens which adds to this UV spotlight's extreme ruggedness. The durable 3 watt LED lamp has a rated service life of 50,000 hours which is equal to approximately 5.5 years of continuous use. All the materials used in the construction of this UV LED spotlight are impact, water, UV and chemical resistant. This UV spotlight is ideal for the military, security and law enforcement industries as well as commercial applications such as event entry management, non destructive testing, unique organic identifier illumination and any application that requires an extremely durable and effective source of portable UV illumination.
"In the industrial sector, we have had a lot of demand for a high powered 365nm UV rechargeable handheld light for inspection and testing and this new handheld UV LED spotlight is our response," said Rob Bresnahan. "This LED UV spotlight has a 16 hour run time, which means that operators can use this testing tool for two full shifts before recharging, saving time."
# # #