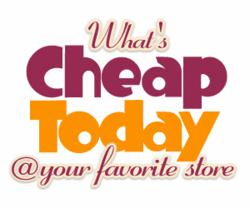 "It's only been one month and we've already given away thousands of dollars to members." Milenko Besklic, CheapToday Co-Founder
Boston, MA (PRWEB) April 13, 2011
Cheap Today (cheaptoday.com), a popular member-fueled source for the biggest sales, discounts and bargains, has launched the Internet's first on line Community of Power Shoppers where Members earn cash (via points) for sharing online shopping deals. "The point system is already a success," says Milenko Beslic, founder and President of Cheap Today. "It's only been one month and we've already given away thousands of dollars to members."
Members of CheapToday's community agree. "Being a bargain shopper by nature, joining the Power Shopper Community was a dream come true. I can't believe I get paid to shop and share my amazing deals with my community from the comfort of my home," said Kim P., a Power Shopper Community Member.
According to their website, "The Cheap Today Community is open to anyone with a love for shopping and finding a bargain. Shoppers and Web surfers who are accepted into the Community can start earning points immediately toward a share of the reward pool. There is no purchase necessary to earn points or to join the Community." They point out that rewards vary based on how many points are accumulated, and point redemption values ranges from a few dollars to well over several hundred dollars for the most popular Power Shoppers.
The Power Shopper Community was launched as a way to tap into the collective wisdom of shoppers, which is often savvier than any one shopper. Said Beslic, "CheapToday's Community is growing, and anyone who likes hunting down bargains and sharing their finds can find out how to earn points (and cash) by getting started today."
About CheapToday
The CheapToday.com Web site is the Internet's premier destination for community curated, unbiased collection of the best deals, sales, coupons and news at stores that matter in the areas of Fashion, Lifestyle and more as solely defined and directed by the Community. Deals are published on CheapToday.com, and its FaceBook page. Users can stay connected by email via the Daily Deal Alert & Weekly Wow emails or by following Cheaptoday onTwitter.
Source: Cheap Today, Inc. http://www.cheaptoday.com
Press Inquiry:
Ben(dot)joslin(at)cheaptoday(dot)com
###