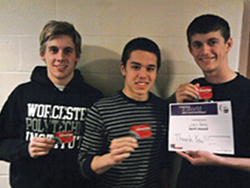 Fairfax, VA (PRWEB) April 14, 2011
Samaritan Fundraising, an innovative fundraising products company specializing in the fundraising needs of Christian organizations, announced today that its customers have generated over $2 million in profits since it was bought out by Salem Communications Corporation in September 2010.
Much of the customer success can be tied to the Samaritan Card, the premier fundraising product of Samaritan Fundraising. Through the Samaritan Card program, fundraising groups can raise up to 80% in profits on the sale of each card.
To date, Samaritan Fundraising has sold close to 200,000 Samaritan Cards. This marks a milestone and is a first for the Christian fundraising company.
"When we started Samaritan Fundraising, we never dreamed we'd help raise millions of dollars," said Tom Freiling, founder and vice president of Samaritan Fundraising. "Our organization has grown by leaps and bounds almost overnight. Today we're proud to be a part of thousands of great causes across the country, from churches to youth groups to schools."
About Samaritan Fundraising:
Samaritan Fundraising is a national fundraising company dedicated to providing churches, schools, youth groups, and non-profit organizations with innovative fundraising products to help them reach their fundraising goal.
Bought out by Salem Communications in September 2010, Samaritan Fundraising has become a trusted fundraising leader among local and national faith-based groups.
For more information, visit http://www.SamaritanFundraising.com.
###