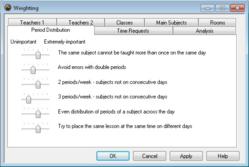 Stockerau, Austria (PRWEB) April 15, 2011
School-timetabling.com is proud to announce its latest version of the revolutionary timetabling software, Untis Express. Untis Express 2011 is a fully automated timetable software solution for schools, capable of generating timetables in just minutes.
With 17,000 users world wide, Untis Express is the recognized world leader in timetabling software. Untis Express welcomes users with a friendly and intuitive interface designed to make timetabling scheduling easy and efficient. Boasting a highly visual user interface, the latest version of Untis Express is unlike any other timetabling software on the market today.
School administrators are able to generate fully automated timetables in a manner of minutes using the unmatched power of Untis Express. Untis Express was designed with the user in mind. Never before has such a powerful timetable software solution been so robust, yet so easy to master.
The new 2011 version of Untis Express features a number of improvements including:

An enhanced and intuitive user interface.
Improved Algorithm allowing users to calculate not just one, but many results.
Special weighting system designed to achieve the educational goals of the school.
Extensive printing options. Print individual timetables or overview timetables. Even export your timetable to HTML and publish it on your homepage!
ABOUT School-timetabling.com
School-timetabling.com is dedicated to providing superior educational products to schools and school administrators throughout the world.
###