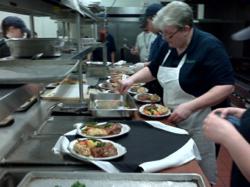 Here at the Clarion, we plan on making some interesting and noteworthy additions to the Bistro!
Davenport, Iowa (Vocus/PRWEB) April 17, 2011
Though the recession brought a decline in catering spending, business experts predict that as the economy continues to pick up steam, momentum-building businesses will begin fueling the catering business through increased sales meetings, business travel, and convention attendance. Likewise, recovery will also spur consumers to entertain with more catered affairs: weddings, graduations, births, holiday parties, and other milestones will again become catalysts for consumer spending.
While this is encouraging news for the catering industry, two locally-owned catering operations are not content to simply wait for this to happen, and have joined forces to take full advantage of this oncoming trend.
Effective today, Sheridan Hospitality Management (formerly known as Sheridan's Island Catering) has assumed the banquet and catering operations of the Quad City Clarion Hotel and Conference Center at the Corner of Brady and 53rd Streets in Davenport.
"We are very excited with this move," says Danny McDevitt, Sheridan's Sales and Marketing Director. "In addition to helping direct the Clarion's respected Quad City banquet and catering operation to a new level of excellence, we now have an additional base of operation off of Arsenal Island. This will help us evolve our off-site catering operations."
"The move absolutely makes sense from a strategic standpoint," said Clarion's General manager Ray Wagner. "The Clarion's current hotel catering operation, while excellent, competes with dozens of other hotel catering operations throughout the Quad Cities. The Sheridan's extensive off-site catering experience and versatile foodservice background will infuse dimensions to the products and services we offer that will be unmatched by any other hotel."
An additional Sheridan project will be to spark new life into the Clarion's on-site restaurant, the Brady Street Bistro. "We plan on making some interesting and noteworthy additions to the Bistro," says Danny McDevitt. "One such addition will be our online ordering system, which should be up and running by the summer. This will help expedite services, offering local business customers the ability to order food for pick up before their lunch break even begins; or order ahead so that their food is ready when they arrive and they can sit and enjoy a nice leisurely lunch."
Sheridan considers this partnership an important step to fortifying their already successful catering operation. "We have found that there is an increasingly competitive battleground for the catering dollar, not only among restaurants and food retailers, but also for caterers and hotels," noted Sheridan's Operations Manager Sheri Jensen. "We recognized that our continued growth required growing our catering opportunities, not only here on the Clarion property, but everywhere business meetings occur and life events are celebrated."
Sheridan's Island Food Service, located on Historic Rock Island Arsenal in Rock Island, Illinois, was founded in February of 2006. A fourth-generation operated company, Sheridan's specializes in cafeteria service, banquets and catering. Sheridan's is owned by parent company Hasty Tasty Food Service, which was founded in Moline, Illinois in 1937 by Mary Fern Poston. Sheridan's employs approximately 35 to 40 full-time food service workers, and another 10 - 15 additional part-time seasonal and banquet staff. Sheriden can be visited online at http://www.sheridansisland.com
The family owned Davenport Clarion Hotel and Convention Center was built in 1964, beginning its existence as a Holiday Inn. Historically significant in the genesis of the Bix Beiderbecke Memorial Jazz Festival, the property served as the location of the electrifying 1971 jam session that saw hundreds of people squeeze into the hotel to take part and sparked an annual event that continues to this day.
For more information, please contact Danny McDevitt at (563) 468-2665 or John Salkeld at (563) 468-2660. You can also visit the Quad City Hotel online at http://www.clarionhoteldav.com/
This article was distributed and made possible by Localize It SEO and website Design. You can reach Localize It at http://www.localizeitnow.com. Localize It, provides local search and hotel internet marketing.
# # #