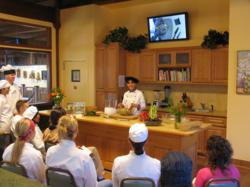 What began as a simple journey has grown into a career path filled with creativity and excitement. The foundation of knowledge and skill I aquired at Living Light has helped me launch projects I never dreamed possible~Brenda Hinton
Mendocino Coast, CA (PRWEB) April 20, 2011
Cherie Soria is at the helm of an unconventional culinary school in northern California. As founder and director of Living Light Culinary Institute, her formula for creating raw food careers in the fast-growing world of raw vegan food in spite of today's volatile job market. For over 17 years, Soria has encouraged students from more than 40 countries around the world to "Live your passion, and make health a career choice" by creating careers that support a sustainable, green lifestyle. In the current economic climate the school's track record belies conventional thinking. Living Light graduates become raw food chefs, caterers, culinary instructors, health consultants, nutrition educators, food designers, food writers, and recipe book authors in countries as far away as Singapore, Iceland, Japan, Europe, Australia, and Saudi Arabia, as well as Canada and Latin America.
Living Light Culinary Institute is dedicated to the highest standards in leadership, professionalism, and in-depth education in gourmet raw vegan cuisine and raw food nutrition," says Soria. "We are proud to say that our students graduate with both professional culinary skills and improved leadership and teamwork abilities. They are passionate about what they do. Their stories and career trajectories amaze and delight us every day."
Living Light also offers a chef referral service, which connects graduates to potential employment opportunities worldwide.
Graduates of Living Light Culinary Institute craft careers that are as diverse as they are ambitious. One of the school's first internationally renowned chef graduates, Chad Sarno, specializes in restaurant and spa consultation, education, and research & development. He was instrumental in launching the SAF restaurant brand, which opened green-concept restaurants in Istanbul, Munich, and London. He currently develops culinary and educational programs for Whole Foods Market CEO John Mackey.
Graduate Roxanne Klein co-authored the book Raw with famed Chicago chef Charlie Trotter. Sunita Vera started The Raw Food Center, an educational facility in Singapore. Chef Made Runatha celebrates the raw version of his native cuisine at Fivelements Puri Ahimsa, an upscale retreat center in Bali, and actress Judita Wignall, aka Judy Nails, a popular character in the Guitar Hero video game series, just published her first recipe book, Going Raw. Jaylene Johnson, mother of eight children, teaches raw foods classes with daughter Kelsi in Idaho Falls, Idaho, while German native Beate von der Osten teaches both gourmet raw culinary and nutrition classes in Tokyo, Japan in Japanese. Chantale Roy created a line of raw chocolates, Rawsta Flora Organics, and teaches raw food classes at the University of British Columbia. Brenda Hinton graduated from the instructor training program and now on faculty at the Living Light and teaches at a culinary school in Japan. She supports two charities in Indonesia and is project director for the Ceres Community Project in Napa Valley, California, an organization that fosters relationships between farmers, local food producers, youth, and people with health challenges to build bridges community wide.
"Our students educate us about what they want to learn while they are here, and we modify and improve our programs on a consistent basis." Soria emphasizes. "We began with a basic core curriculum that works year after year, and we continue to adapt it by adding new programs, refining our teaching skills, and developing a curriculum that supports our students in launching exciting careers all over the world."
While journalists report job losses and career decline in a wide range of industries, and experts predict more of the same, Living Light Culinary Institute is in the business of educating students from around the world to effectively create career opportunities that support personal and planetary health and well-being.
Living Light International has four eco-friendly businesses on the Mendocino coast of Northern California: Living Light Culinary Institute, Living Light Café, Living Light Marketplace, and Living Light Inn. Living Light Chef Showcase is an event they produce every year, on the fourth weekend in August. The showcase is streamed around the world via the Internet for the thousands of viewers who cannot attend the live event.
###